Rice is a favorite dish in many parts of the world.
It's no secret, Japanese cuisine knows what's good when it comes to rice.
They've been using some variation of the rice cooker for millennia now, and in this day and age, every kitchen will find some use for these versatile little machines.
Regardless of your preferred method of preparation, having a rice cooker can significantly improve the taste of your meals.
Although you can prepare a delicious rice recipe using a regular stove, using a rice cooker not only makes the process faster, it also produces a meal you can expect to find in a five-star hotel!
If you don't already have a rice cooker, though, it can be fairly difficult to traverse the vast array of choices one has, whether because you just aren't sure what good rice should taste and look like, or because you've never seen one of the best little kitchen gadgets to be invented in your life!
Buying Guide: Here are some of the factors you need to consider before buying a cooker
Price
Usually, the number of features a rice cooker has affects its price. This explains why models that have advanced features such as programmable controls are more expensive than those with basic features.
While such fancy features add functionality to the cooker, you will still be able to prepare and enjoy a tasty meal by purchasing a cheap model.
Size
Another factor to consider when shopping for a rice cooker is its size. In this case, it is essential to think about the amount of rice you plan to prepare, as well as the number of people you want to serve.
Material
Every person has their preferences when it comes to the materials used to make the interior of a rice cooker. That said, most models in the market are made of either aluminum or stainless steel, with a non-stick lining to make cleaning easier.
You could also opt for models made using natural materials like clay and charcoal. It is worth noting that these units also have non-stick properties, though theirs is natural.
Brand
It is advisable to go for a brand that is reliable and trustworthy. Brands like Cuisinart and Zojirushi are famous for their excellent designs, superior quality, and have a long-lasting life.
Ease of Use
In most cases, the cookers with basic features are the easiest to use. However, this does not mean that models with more advanced features are difficult to operate, though it takes time to master all the controls.
Safety Features
Cooking can be risky, which is why your preferred rice cooker must have safety features. For instance, an inbuilt fuse can prevent electrocution by turning the machine off during power surges. Also, a pressure regulator can prevent the buildup of steam that can cause burns.
So what are the best rice cookers?
10 Best Rice Cookers Review
Here, we've listed ten different rice cookers and given you a helpful peek into their respective pros, cons, and all-around usefulness.
Best Overall – Zojirushi Pressure Rice Cooker
Specifications:
Item Dimensions: 15.40 x 10.10 x 8.60 inches
Material: Stainless Steel
Weight: 13 lbs.
If budget is not an issue, we recommend getting the Zojirushi Pressure Rice Cooker.
The standout benefit of this cooker is its smartness. It features an advanced fuzzy logic technology powered by Artificial Intelligence that learns and adjusts the cooking cycle to prepare perfect meals.
Amazingly, AI technology enables this product to cook consistently throughout the year, even when temperatures are at extremes.
The cooker also remembers the amount of rice that you often prepare, and sets the ideal conditions to ensure that it produces quality meals.
The Zojirushi Pressure Rice Cooker has an easy to use LCD control panel with a clock and a timer. The buttons are well labeled, each with its unique cooking function.
Besides, this product allows you to prepare every imaginable type of rice, including brown rice, white rice, sushi rice and gaba rice.
In this regard, it makes use of its unique induction heating pressure functionality to ensure that heat gets distributed evenly throughout the pot.
In short, if you are looking for a smart rice cooker that is powered by the latest technology, consider purchasing the Zojirushi Pressure Rice Cooker.
Pros
SMART AI TECHNOLOGY THAT GUARANTEES CONSISTENCY WHEN COOKING
IT HAS AN EASY TO USE LCD CONTROL PANEL
INDUCTION HEATING PRESSURE FUNCTIONALITY THAT PRODUCES SOFT AND TASTY RICE
Cons
IT HAS A LIMITED CAPACITY OF 5.5 CUPS

Runner up – Zojirushi NS-LHC05XT Micom Rice Cooker and Warmer
Specifications:
Item Dimensions: 11.88 x 9.13 x 7.50 inches
Material: Stainless Steel
Weight: 6 lbs.
Zojirushi, a company known for its continuous production of innovative and high-quality products, does not disappoint with the NS-LHC05XT Micom Rice Cooker and Warmer.
That is why we ranked this machine second in our list of the best rice cookers.
If you love GABA brown rice, you will be excited by the GABA Brown Setting that is specifically used to prepare this meal.
It works by activating the rice, a process that increases the nutritional value by 150% as compared to non-activated rice.
GABA is an amino acid that helps in regulating blood sugar, relieving stress and improving kidney function.
One feature that particularly impressed us is the retractable power cord on this appliance.
Besides making storage easier, it helps to ensure that the cable is less susceptible to breakage.
Like other models in the Zojirushi rice cooker range, this product uses computerized microchips powered by AI to ensure you enjoy perfect meals every time.
This system also regulates the food warming and heating cycle.
The inner lid is detachable to ease the cleaning process.
Moreover, this cooker has a removable steam vent cap to prevent messy overflows when cooking at high temperatures – Yes, you read that right!
Pros
RETRACTABLE POWER CORD MAKES IT EASIER TO CLEAN AND STORE THE UNIT
IT COMES WITH ACCESSORIES ( E.G. SPATULA, A SPATULA HOLDER AND A MEASURING CUP)
IT HAS A NON-STICK INNER POT AND A DETACHABLE LID THAT ARE EASY TO CLEAN
Cons
IT ONLY HAS A MAXIMUM CAPACITY OF THREE CUPS

Best Multi-use Cooker – Instant Pot Duo 7-in-1 Electric Cooker
Specifications:
Item Dimensions: 13.38 x 12.20 x 12.48 inches
Material: Stainless Steel
Weight: 11.8 lbs.
The Instant Pot Duo cooker combines seven different functions into one appliance. It can serve as a rice cooker, slow cooker, pressure cooker, sauté pan, yogurt maker, steamer, and food warmer.
Remarkably, it cooks at speeds that are up to 70% faster than regular cookers.
In addition to its unrivaled versatility, this product features the latest third-generation technology.
It has an inbuilt microprocessor that regulates temperature, monitors pressure, and adjusts the intensity of heat to ensure that your meals are always delicious and healthy.
Another eye-catching aspect of this cooker is that it offers plenty of recipes for free.
These are available on the Instant Pot app for iOS and Android, which you can get on the App Store and Google Play, respectively. 
As if that is not enough…
We all know that cooking can be risky since you get exposed to direct heat. This product, however, has over ten inbuilt safety features (such as overheat protection) that help prevent potential hazards when cooking, but if you want to add additional layer of safety and convenience then there are instant pot accessories that you can purchase. 
Pros
Easy to clean and dishwasher safe
You get to enjoy free access to hundreds of recipes
Smart programs for one-touch operation
Cons

The steam valve starts leaking after prolonged use

Best for Large Families – Value Series RC-S300 Rice Cooker
Specifications:
Dimensions: 17 x 17.5 x 15 inches
Material: Stainless Steel
Weight: 25 lbs.
We understand that finding a rice cooker whose capacity is big enough to prepare a meal for a large family in one session can be challenging. That is why we recommend trying out the Value Series RC-S300 Rice Cooker.
With the capacity to prepare up to 60 cups of rice in one session, this cooker is ideal for large families and gatherings. It can also be a great addition to a commercial setting, such as a small hotel or a restaurant.
Its upscale presentation makes it perfect for outdoor use, either at the front or the back of your home.
Another impressive quality of this cooker is its design. Both the pot and its lid are made of stainless steel, and the satin finish further enhances their appearance.
Pros
It is relatively easy to use
It is large enough to serve a large number of people
It has a beautiful and durable design
Cons
It is not versatile as compared to other units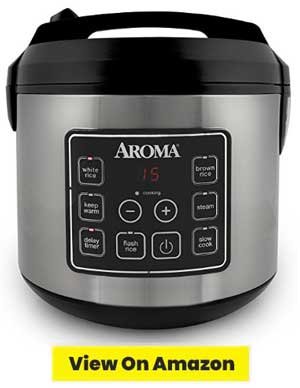 Who said that you have to pay a lot of cash to obtain a quality rice cooker? 
The Aroma Digital Rice Cooker and Food Steamer is undoubtedly one of the best rice cookers you can purchase without forking out a lot of money.
Despite its affordability, it produces high-quality rice, and can also be used for steaming foods.
Whether you've got lots of mouths to feed or just want to get all your rice cooking done at once for the work-week, this large and efficient rice cooker might be just what you're looking for.
It has the outstanding ability to give you a whopping twenty cups of cooked rice, and even has a tray which makes it a versatile vegetable steamer and even a slow-cooker!
What's more, this product is easy to use. All you need to do is to add rice, press a button and voila! You will get tasty and healthy meals that your entire family will love.
Additionally, the compact design of this cooker can accommodate between two and eight cups of any type of rice. Once the rice is ready, it automatically switches to Keep-Warm mode, which prevents the food from burning. 
This all-in-one system really gives you some serious bang for your buck!
Capacity
This cooker's large bowl and tray allow for up to twenty cups of finished rice, or the equivalent slow-cooker servings you'd never be able to fit in a tiny slow-cooker all by itself! Add to that its steaming tray, and you've got all the space you need for a whole meal.
Quick-Clean Pot
The actual pot inside this rice cooker is not only non-stick, but also removable, making for an easy clean-up after you've gotten your fill of its functions.
Accessories
This rice cooker comes with a steam tray, a measuring cup, and a rice-serving spatula!
Pros
Quick; easy clean-up and set-up; with consistent results in the rice every time.
It has useful accessories like a rice paddle, measuring cup and steamer tray
Its non-stick inner pot is easy to clean
It has multiple cooking functions
Cons
This rice cooker in particular is quite large- so unless you have the counter space to spare you might want to look at a smaller model.
The plastic hook (which secures the lid) brakes down easily

Zojirushi Induction-Heating Rice Cooker – Versatile but slower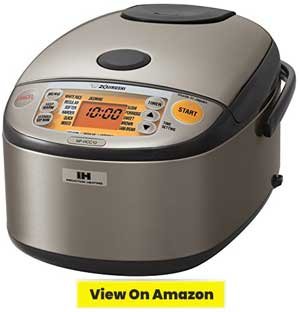 On the high-end side of the at-home-cook's kitchen gadget array should perhaps be this high-end, stainless steel rice cooker from Zojirushi.
Though it comes in at one of the more expensive cookers on this list, its versatility and quality will more than make up for the investment.
Capacity
This model in particular boasts a five and a half cup cooked rice capacity, meaning it's right around the mid-line for a single family's worth of dinner rice.
Induction Heating
This feature alone makes the Zojirushi model worth the price. Rather than slowly heating an element within the rice cooker, this model uses induction heating to instantly heat the rice pot using a magnetic field, thus giving you more evenly cooked rice without fear of burning or sticking on the bottom of the pan.
Jasmine Setting
Unlike most rice cookers, this model has a setting specifically for Jasmine rice. Jasmine rice is popular in many dishes, but needs to be cooked a little differently than, say, short grain or medium grain rice.
If you find yourself eating a lot of jasmine white rice, this feature might just make it worth your while.
Pros
High quality and versatility
with a keep-warm feature that starts immediately after rice is done cooking- meaning you don't have to worry about over-cooking the rice.
Cons
As far as rice cookers go- this model is a little bit more on the expensive side- so be sure to consider your investment.

Cuckoo Electric Rice Cooker – Great for frequent cooking
Cuckoo rice cookers have been around for a while in Korea, and it's easy to see why.
While they come in at mid-range for price, their quality and ease-of-use more than explains the investment upon buying them.
They're light, simple to use, and come with just enough functions to make owning one more than worth it if rice frequently finds its way onto the menu.
Warranty
Cuckoo has been long known for its outstanding customer service, and their warranty is just part of that. For one year the manufacturer will replace all parts and the labor needed to keep your rice cooker in working order.
Fuzzy Logic Chips
This Cuckoo model uses what's known as a fuzzy logic computer chip in its system, meaning that instead of just turning on or off to cook your rice, it will keep tabs on the conditions within its cooking pot to adjust and make sure that you get the perfect bowl of cooked rice every time you use it.
Easy-to-Read LCD Screen
Some rice cookers have so much information you can hardly keep track, and others have none at all. This Korean-made cooker comes with the Goldilocks screen – just the right size to give you all the information you need. On top of that, it's incredibly easy to read even for the most sensitive eyes.
Pros
High quality
slow- fast- or regular cooking options
simple design and function
fuzzy-logic computer board.
Cons
Just a little bit pricey at around one hundred US dollars
it's simplistic design means it's best used for cooking rice and perhaps just rice.

Tiger 4-Cup Rice Pressure Cooker and Warmer
We've seen a few of the more expensive members of this best-of list, now let's move on down the line towards a few more affordable models.
The Tiger rice cooker is not only that, but also flat easy to use.
On this model there are no screens, no doo-dads, and no tricky settings, just two lights to tell you whether the rice is cooking or being warmed, and a little switch to get it going.
If you haven't got the time or patience to deal with all this fancy nonsense other rice cookers offer, a Tiger model might be just for you.
Extremely Simple Interface
Like we said: two lights and a switch, with nothing in-between. Whether you've got the three-cup model or the ten-cup model, it doesn't get any easier than that.
Keep-Warm Function
Some rice cookers will stay on indefinitely or not long enough, but the Tiger model seems to be just right at a solid twelve hours keep-warm function.
Whether you live alone or have other mouths to feed, this function alone will make sure you've always got some rice at hand even if you don't finish all that you cooked the night before.
Steam Vent
Cooking white rice uses two things – water and rice, and water means steam! More often than not, rice cookers just gather condensation in a really inconvenient area, and that can mean mold or musty smells if you don't clean the entire system often enough.
The Tiger model has a removable vent, though, meaning this hassle is now yours to be worry-free about.
Pros
Very simple design
keep-warm feature with different temperatures setup
removable accessories for easy cleaning.
Cons
Maybe too simple? If you want a rice cooker that either tells time or has more than one cooking setting- this is definitely not the model for you.

Black & Decker 3-Cup Rice Cooker – Best Budget Cooker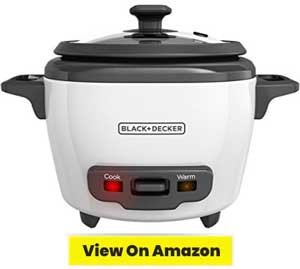 We promised we'd get more inexpensive for you as the list went on, and here is where you really, really get the bang for your limited buck.
Coming in at under twenty bucks, this single-serve little rice cooker will keep you munching all through the night, and its extremely simple interface means you don't have to worry about anything but sticking rice and water in your cooker and setting it to cook.
Cup Capacity
This Black & Decker model is a little on the small side, generally considered a single-serve if you're buying their 3-cup model, but the same rice cooker comes in sizes up to a whopping twenty-eight cups for what is still an absolute steal for the amount of rice you end up being able to cook.
Simple Indicator-Light Interface
Two lights, one button – this little rice cooker will click to the on position and when it dings, it's done! All you have to do is worry about putting food in it, and it'll do the rest.
Tempered Glass Lid and Holder
Not only do you not have to worry about burning yourself on this ergonomically designed pot lid, but it's specifically designed to fit onto one of the handles on the side of your rice pot, which means no more condensation left behind on your counter!
Pros
Wide range of sizes- with some models including a steaming basket for vegetables
an astounding two-year manufacturer's warranty.
Cons
You get what you pay for; at under twenty bucks- it's a cheap investment for a potentially cheaply made product. Kind of a toss-up as to how long it will last before you're cashing in on that warranty.

Hamilton Beach Digital Rice and Hot Cereal Cooker – Set-it And Forget-it
Hamilton Beach is a well-known name in modern kitchens not only because of their wide array of appliances, but because of their inexpensive quality.
This many-use cooker is rarely found for over fifty bucks, and on top of rice it can perfectly cook beans, whole grains and even pasta with its unique heating and simmering functions.
For its price, the two sizes it comes in – fourteen or twenty cups uncooked – means you get plenty for what you paid for it.
Wide Capacity Range
Though the smallest available size in this model is fourteen cups, it can cook as little as two cups of uncooked rice if you find yourself not needing as much as it can handle or you'd rather thrown in other foods to cook with that rice.
Many Uses
On top of cooking brown rice, this Hamilton Beach cooker can handle pasta, beans, soups and even whole on-pot meals, while at the same time guaranteeing you a perfectly cooked dish every time.
Pros
Versatile settings and set-it-and-forget-it cooker
able to handle most dishes with relative ease.
Cons
Might be considered a little complicated if all you're looking for is a cooker that can handle rice.

Progressive Microwavable Rice and Pasta Cooker – Best Multitasker Pick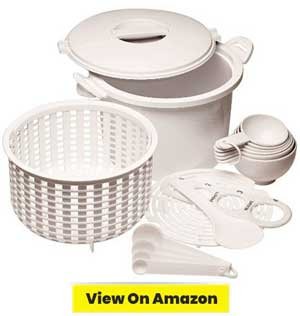 How about something you don't have to plug in for a change? Though it's not quite set-it-and-forget-it, this easy-to-use cooker makes up for that by not only being simplistic, but inexpensive.
Accessories
This model boasts seventeen different pieces, including a full range of measuring cups and spoons.
Microwavable
Why take up counter space with a whole appliance? Just pop this easy-to-use little gadget in the microwave!
Pros
Simple
efficient
dishwasher safe.
Cons
No set-it-and-forget-it or instant cooking convenience to be found here.

Aroma 6-Cup Rice Cooking Machine with Steamer
Aroma shows up again to prove that even the most inexpensive rice cookers can remain high quality and versatile with this two-in-one option; a rice cooker and a steamer, all in one sleep, pot-style look.
Capacity
This model is on the smaller side, generally considered a single-serve rice cooker at only three uncooked cups of rice (six cooked cups).
Steam Tray
Want some veggies with your rice? This little rice cooker's got you covered with a built-in steam tray!
Pros
Takes up very little space, simple to use and simpler yet to clean.
Cons
No specifics-friendly interface: you turn it on or off, and it is either cooking or warming your food, and that's it.
Pros
Takes up very little space
simple to use and simpler yet to clean.
Cons
No specifics-friendly interface: you turn it on or off and it is either cooking or warming your food- and that's it.

Panasonic 3-Cup One-Step Rice Cooker
It doesn't get any simpler than this. Throw in your rice and water, hit one button, and all you've got to do is wait for the rice to be done! Simple!
Turn-Off Function Test
Instead of warming your rice when it's done, this cooker will turn off entirely, meaning you don't have to worry about any electrical issues.
Easy Clean-up
With its removable inner pot and simplistic design, clean-up is a cinch and you don't have to worry about any surfaces to catch all that steam.
Pros
Simple – easy to use
and anti-fire-hazard turn-off design
Cons
It's not the cheapest model out there- and some would claim you can get a better rice cooker for either the same price or even a little less.

T-Fal Digital Ten-in-One Rice and Multi-cooker
If there was ever to be a crown King of Multitasking in the rice cooker world, this model is it! It boasts an astounding ten different functionalities and even comes with a delay timer so you can – what's our favorite term? – set it and forget it!
Wade Range of Functionality
This truly versatile cooker can cook you anything from slow-cooker meals, to soup, to baked goods, and even yogurt!
Pros
Extremely multi-use
all-in-one design with easy-clean removable parts
a relatively simple interface
and fuzzy-logic cooking technology that ensures a perfectly cooked meal every time you use it.
Cons
It's made out of plastic- so while it might be lightweight and simple
it'll need constant cleaning to ensure the parts stay up-to-par with its use.

Final Thoughts
Rice cookers are becoming one of the leading items cooks and home buyers go to when trying to figure out what kitchen gadgets they're going to give their counter space to. With just how many uses and recipes you can get out of any one of these rice cookers, large or small, expensive or inexpensive, complex or simplistic, it's really no wonder so many people decide to own one. You should, too!
Related Post: