10 Best Slow Cooker Reviews To Buy In 2020
Best Slow Cooker Reviews 2020
Crockpots, sometimes known as slow cookers, are versatile kitchen tools that are one the rise. They were all the rage for a while, but fell out of fashion in the few decades. In recent times, however, the once unfashionable cooking appliances have been re-invented. Marketed as devices which allow for the cooking of healthy meals with less mess, fuss, and cleaning, their easy, one pot, one step method of cooking is great for busy people. If you need to just throw the ingredients together, go about your day a crock-pot is for you.
If you know nothing about slow cookers and crock pots, but want one we can help.  Let us guide you to a healthier, less stressful way of cooking. Both you and your family will love the results! Peruse this list of the 10 best slow cookers and crock pots on the market right now, and we're sure that you'll find what you need.
Here are our top 10 slow cooker picks for you:
10. West Bend 84905, Silver
West Bend is known for producing quality kitchen appliances at affordable costs, and their 89405 Versatility model is no different. Coming in at an RRP of $39.99, this versatile slow-cooker can be placed directly onto your range, has a detachable base which can be used as a mini-griddle, and is oven and freezer safe! Generously sized, with a 5-quart capacity, this is a slow cooker that can be used to make a hearty family meal, or to prep your own meals for the week! The vessel can be detached for serving, and cool-touch handles make it easy to do so.
The main downsides are that the removable mini griddle means that food is cooked exclusively from the bottom up and that this model has now been discontinued by the manufacture. You will need to stir occasionally for an even cook, but you could get one at a good price right now. Remember, though, they'll be gone soon now that they are no longer being produced.
9. Magic Mill 8.5 Quart
If you like to bring some home cooking with you when you go to visit friends and family this generously sized slow cooker is what you need. The Magic Mill 8.5 Quart slow cooker retails at $120.99, but you can usually find a good deal on this popular model. In all honesty, it is worth the money. Not only does it have three heat settings, but it comes with a programmable 20-hour digital timer. This displays the cook time remaining clearly so you can plan your meal. Furthermore, it will switch automatically to a "keep warm" setting when the cook time is over. The locking lid and cool-touch handles also mean you never need to worry about spillage on your way to your destination!
The Magic Mill slow cooker offers a safe and secure way to transport food to and from parties and gatherings when needed. If you cook for a small number of people and you rarely transport your food, however, the price tag may not be worth it.
8. SharkNinja MC950Z Multicooker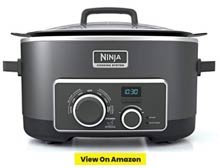 The SharkNinja Multicooker is a slow cooker with a difference; this is 1 pot which performs in 4 different ways. With the SharkNinja Multicooker you can sear, steam, bake, and even roast food in one easy clean, easy to use pot. This means that you can cook delicate foods which are prone to becoming dry in the SharkNinja without fear… The SharkNinja is smaller than the Magic Mill, coming in a 6 Quart capacity, but is still big enough to cook a full family meal with ease.
Better yet, the slow cooker also comes with extras! A cookbook, non-stick cooking pot, steaming/roasting rack, and a multipurpose pan come with every Multicooker. The one drawback is the price; at $149.99 it's one of the more expensive offerings on our list. If you put all of its appliances and modes to use, however, you may well deem it to be worth the expense!
7. Chefman All Natural Slow Cooker
Those adhering to a paleo diet will know how hard it is to find equipment that is up to the task, well the Chefman All Natural Slow Cooker is 100% natural; the stoneware insert is PTOA, PTFE and coating-free and creates naturally healthy, paleo friendly meals. The Chefman All Natural Slow Cooker comes in 5, 6, and 7-quart sizes. It is stove top and oven safe thanks to its removable insert and lid which are also dishwasher safe. This means you can sear, seal, or caramelize your vegetables to get the most flavor from them before you set the slow cook timer. All of this can be yours for the great value price of $49.99 (based on 7-quart crockpot).
6. Hamilton Beach 33138
The Hamilton Beach 33138 is a dainty, stylish, and simple slow cooker that is perfect for those who cook for one or two people more often than not. With a 3 quart capacity, it can handle a small roast or chicken and make meals for two in a jiffy! The Hamilton Beach is dishwasher safe, easy to clean, and has three setting for cooking control; it's also good value for money at just $32.70! This is great if you're tight on space and funds. If you cook for larger groups frequently, however, this slow cooker may be too compact for your needs. If you want something that performs a variety of functions the Hamilton Beach will not fulfill your needs.
5. Crock-Pot Hook Up Connectable Entertaining System, Double Oval
If you love to entertain in your home, the Hook Up Connectable system from Crock-Pot could be the cooking system of your dreams! The Double Oval model, in particular, cooks and warms small appetizers or finger foods. It has two separate 1-quart dishes but can be connected to larger crock pots of the same make. This is designed to provide a seamless and stylish system of warming plates and slow cookers for all occasions. All offerings in the range have low, high, and medium settings for convenience and flexibility. The unnecessary complication of hooking up numerous slow cookers for small meals is a pain, though. You need a good amount of storage space if you're going to make use of the Hook Up entertaining range.
4. Nesco 481825PR Professional Roaster Oven
Nesco, as a brand, is synonymous with catering quality cookware. The 481825PR Professional Roaster oven is no exception to this reputation for quality. With 5 quart, 6 quart, and one whopping 18-quart option there is a Nesco Professional for every home. The removable porcelain cook well is non-stick, non-stain, and very easy to clean. The patented "circle of heat" technology that Nesco use does give this offering one very key advantage over its competitors; this slow cooker heats food from every side, not just the bottom, which keeps the food moist as well. The Nesco Professional has an adjustable thermostat that reaches 425 degrees and can be yours in all its 18-quart glory for $57.81.
3. All-Clad SD700450 Programmable Slow Cooker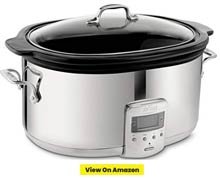 This All-Clad stainless steel slow cooker is the most expensive appliance on our list. At $179.95 it is not cheap, but if you know All-Clad you will know that you're paying for their passion, craft, and high-quality materials as well as their spotless reputation. With All-Clad you get a legacy as well as a crock-pot. At 6.5 quarts this is not the biggest slow cooker on this list, nor is it the most versatile. The ceramic insert is not safe for oven or stove top use. Instead, the All-Clad SD700450 focuses on being the most durable, high-quality slow cooker it can be. The insert and lid are dishwasher safe. The lid has a robust seal that keeps heat and moisture in to ensure even cooking and prevent your meal from drying. You can program the slow cooker to cook, heat, or warm food until it is time to serve.
2. KitchenAid KSC6222SS Slow Cooker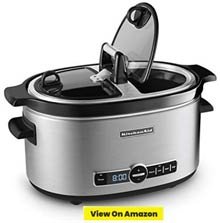 This 6-quart slow cooker is available with a standard or "easy serve lid" for either $84.95 or $91.36 respectively. Whether the dual door, hinged lid is worth the extra 7 dollars is up to you. Whichever lid you choose, however, this is an excellent offering from KitchenAid. The ceramic vessel can be removed for serving and it is dishwasher safe. However, it should not be used in the oven or on the stove. The slow cooker is programmable in 30-minute increments (up to 24 hours) and has a keep warm function. This will last for up to 4 hours after your meal has finished cooking and maintain a pleasant temperature. The clear display makes it easy to tell when your food is ready. For the price tag, however, the KitchenAid KSC6222SS is less versatile than expected.
1. Hamilton Beach 33969A Programmable Slow Cooker
The second offering from Hamilton Beach on this list is a little less basic, but the price is not so different. At $47.99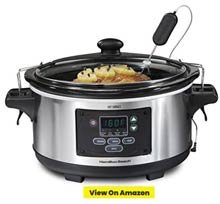 the 33969A is just 10 dollars, give or take, more expensive than its dainty sister. It gives so much more, however. Marketed with the promise "not your mom's slow cooker" the 33969A aims to be smarter, savvier, and sleeker than its competitors. It offers a 6-quart capacity, and a removable ceramic vessel which is safe for both the oven and the dishwasher.
The tight-clip gasket lid makes it safe for transportation, and it comes with a patented temperature probe. This allows you to check that your food has cooked all the way through without lifting the lid. As a result moisture and heat do not escape. Much like its sister product, however, this slow cooker is compact and easy to store. The cable wraps up underneath the slow cooker to keep things tidy, for example. Perhaps the only thing we could say against it is that if you want a supremely versatile machine this is not it. This machine is not freezer safe and has no roasting, steaming, or baking functions.
Crock-Pot Programmable Cook & Carry
The Crock-Pot 6 quart Cook & Carry slow cooker is perfect for those who want to feed a big family or take a hearty dish to a local party. This slow cooker can hold enough to feed seven people, and the digital countdown timer allows you to let the machine do the work while you get on with your day. The removable stoneware dish inside of the crock pot is stylish and elegant as well as being oven safe up to 400 degrees. This means you can cook and serve in the same, dishwasher safe dish for minimum hassle and clean up! Better yet the digital timer lets you program cook time and temperature for your dish so that you can get on with your day without the stress of hovering over a stove all day.
This is a simple but effective slow cooker that does everything you need it to, though not anything fancy, for the reasonable price of $48.81. Crock-Pot also allows for the purchase of a 3 or 4-year protection. This will ensure that, should something go wrong with your slow cooker you can have it repaired or replaced without any hassle or stress at all.
No matter which of these slow cookers you decide to invest in, we are certain that you will find what you need. Slow cookers offer a pleasurable way to stay healthy and get more out of your food. Just remember to think carefully about what you need. Balance your budget with getting a machine that will do what you need it to! Expensive isn't necessarily better. Pick something that meets your needs well. If you do not you may end up replacing your slow-cooker quickly. By picking the ideal middle-ground option, you can get the best for your money and improve your diet overall.
Why You Should Own a Slow Cooker
You're probably wondering: Why bother having a slow cooker when you can just do it yourself with a stove and pot? I used to think this myself, but after some mistakes when slow cooking, a slow cooker has made me realize that it does more than just tenderize meat! Here are the benefits using a slow cooker has to offer:
Healthier
Cooking at high temperatures will have your food lose some ingredients, and slow cooking will help keep those nutrients while promoting a healthier body because the tender meat is easier to digest.
Brings Out Flavors
What I love about slow cooking is that it truly brings out the flavors you want from meat or vegetables. You can even use it to make dips, stews, or even a sweet pudding, making it versatile and useful for just about any meal.
Saves You Money
Slow cookers would cook food at a gradual process and would make even the toughest of meats tender. And yes, the toughest of meats are usually the most inexpensive ones, which would shine and taste delicious once you use the slow cooker. So you can purchase cheap (but quality) meat, saving money while still getting a yummy meal out of it. I recommend you to use pork belly, shoulder, brisket, oxtail, or shanks.
How to Purchase the Best Slow Cooker
A slow cooker is only beneficial as long as you choose the right one suitable for both you and the kitchen. To help you out, here are some tips and factors to consider:
Size
How many people do you plan on cooking for? If you are just one, a two-quart slow cooker will do. For average families, four or five quarts will do.
Features
Consider the options you have with the slow cooker's settings. Will you require a thermometer probe or timer, or are you fine with just a dial and warm setting? Some may want a timer because they would be out while the slow cooker does its job, while others are okay with a dial, which is less expensive.
Material
Ensure that you purchase a slow cooker made out of the strong material. I recommend stainless steel, which helps conduct heat excellently. The stoneware should also be easy to clean, made of nonstick material and removable for cleaning or serving on the dining table.
Now that you know how to choose a slow cooker right for you, how can you use it correctly? Here are some tips and ideas you can try once you have the optimum slow cooker:
There's no need to add oil to our slow cooker, as they are made of non-stick material, and the contents have enough moisture to keep it from sticking. To keep the calorie content low, trim the fat and do not use as much oil.
All slow cookers have tightly sealed lids so liquid won't evaporate. Reduce the liquid by about a third of what it needs to avoid any leakages.
The liquid will not reduce or thicken. So to make your stews or dips a bit thick, you can roll the meat in a bit of flour before placing it in the slow cooker.
For better consistency and flavor, I recommend that you cook it slowly and on the low setting. A slow and gently heat will bring out the flavors you want, as compared to putting it on high. Take note that it will take a bit more time, though! Avoid opening the lid and leave it alone to cook so you won't have to increase its cooking time the more you open its lid to check the contents.
In Conclusion
If you want to make a mean pot roast or an easy rice pudding dessert, then you should invest in a slow cooker, which will create the tender and moist dishes everyone will love! It's easy to use and the time will be well spent waiting for your food to cook itself, rather than to continually look at the pot on a stovetop to ensure even cooking.
Out of all the slow cookers tried and tested, the one I would recommend most would have to go to the Crock-Pot 6-Quart Programmable Cook and Carry Slow Cooker. It comes with everything you need in a kitchen appliance, including the countdown control that keeps your food cooking consistently for up to 20 hours! With its easy locking lid and understandable settings, just about anyone can start slow cooking and creating the tender and juicy dishes that regular cooking can't produce. And, the stylish oval stoneware can be used for serving once you're done the cooking.
Perfect for groups of people and with the advanced technology for slow cooking, you won't go wrong with this slow cooker.
I hope that this article on the best slow cooker helped you become more knowledgeable on what you should invest in for your kitchen. So don't wait any longer and start improving your cooking skills with this handy kitchen appliance today!
If you have any questions or would like to share your tips and experiences when using a slow cooker, then comment down below. I would love to hear what you have to think.
You may like other related stuff: