It may not seem like it, but finding the best garden hose nozzle for your home or business takes some time and research.
When looking for the perfect nozzle to fit onto your garden hose, consider what you'll be doing with it most of the time. If you're an avid gardener, you'll appreciate multi-functions and settings.
If you're primarily involved in washing equipment or vehicles, a strong stream is critical. For those who are mainly puttering, maybe washing the dog or cleaning a patio, a more budget-friendly option may be up your alley.
There are some universal details that every nozzle should have. A solid connection between hose and nozzle avoids any drippage or errant spraying.
The nozzle's grip is a subjective choice, with an array of textures and weights available.
If you use your hose frequently or for long periods, you'll need a grip and weight that's comfortable for your hand size, strength, and endurance levels.
You also want to buy a product that lasts over a stretch of time, so you don't have to spend money replacing your garden hose nozzle frequently.
With a substantial variety of options, a comfortable grip, and an attractive finish, the Gardenite Heavy-Duty Watering Hose is a long-lasting addition to any garden or outside area that necessitates a hose.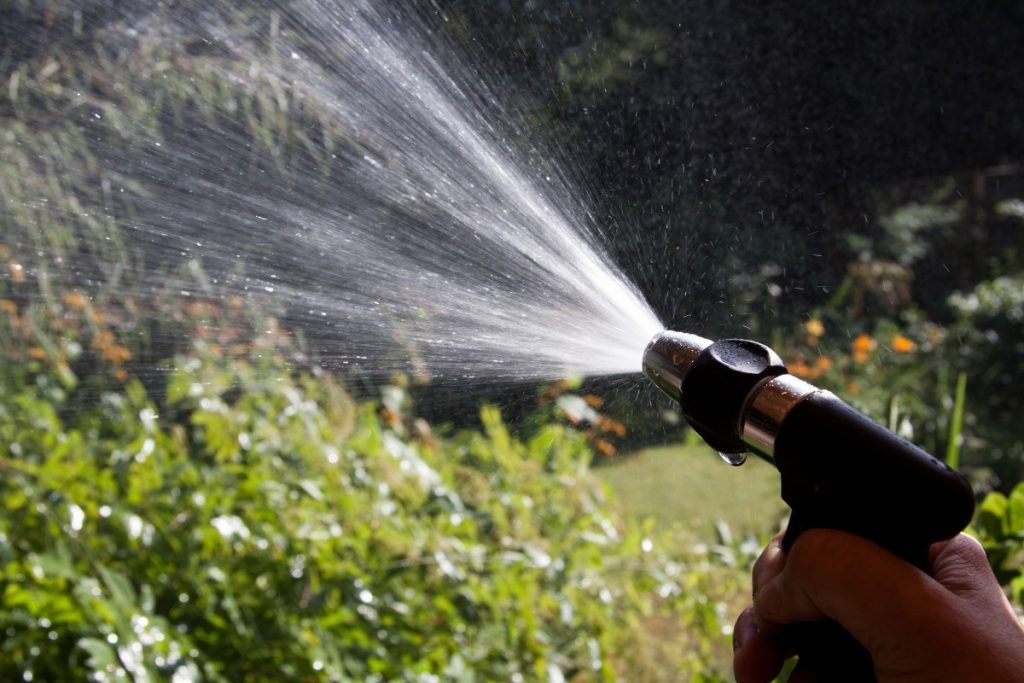 Top 7 Best Garden Hose Nozzles Review
1. Best Overall – Gardenite Heavy-Duty Watering Nozzle
Pros:
 BUILT TO LAST
 EASY TO HOLD FOR LONG PERIODS
 CAN BE LOCKED INTO PLACE
 FEW PLASTIC COMPONENTS
 GREAT CUSTOMER SERVICE
Cons:
 WATER MAY SPURT OUT HANDLE
 MAY SQUEAK WHEN YOU ARE ADJUSTING SETTINGS
Specifications:
Made of heavy-duty metal with baked enamel finish
10 watering patterns
Soft rubber handle
Adjustable water pressure
Weighs just 12.8 ounces
This multitasking garden hose nozzle combines the ease of a pistol grip with the versatility of a multi-setting nozzle.
Gardenite is a top brand among gardeners and the manufacturer guarantees customers' satisfaction 100%.
It has an ergonomic rubber handle that is just squishy enough to make holding it comfortable and pain-free.
The construction is durable and attractive because it's made of metal and baked enamel with no plastic parts. This design style also prevents rust.
The trigger design promotes easy functionality, and the trigger locks into place if you need to keep the water on.
With a variety of options, both in spray arrangement and pressure, this nozzle can keep up with anything you need it to do.
It has ten different options for spray patterns, so you can choose between a gentle shower and a striating fan. You can also adjust the pressure from low to high, increasing the nozzle's specificity.
You need a nozzle to match the job and the Gardenite offers versatility and durability. With a wide range of spray patterns and strong or gentle water pressure, whatever your watering needs, this heavy-duty watering nozzle is up to the task.
2. Best Runner Up – Gilmour Super Duty Front Control
Pros:
 MADE OF STAINLESS STEEL FOR EXTRA DURABILITY
 RUSTPROOF
 EASY ALL-IN-ONE THUMB CONTROL
 RUBBERIZED GRIPS
 THE MANUFACTURER OFFERS TWO SPARE WASHERS WITH THIS PRODUCT
Cons:
 CORROSION AROUND SELECTION RING
 AFTER A COLD SEASON, HOUSING MAY CRACK
Specifications:
Impact-resistant coupling for a solid nozzle-hose connection
Weighs 13.9 ounces
Hold-open clip for continuous spray
8 watering spray pattern options
Lifetime warranty
This garden hose nozzle is unique in that it features an all-in-one control on the front, compared to the regular back control system.
You can control this nozzle with your thumb to switch between the eight different settings – shrub, garden, flower, rinse, clean, soft wash, jet, and sweep.
The manufacturer is responsive and offers a lifetime warranty with this product, and also offers two replacement washers with purchase.
An impact-resistant structure makes this nozzle very sturdy. The connection between nozzle and hose is leak-free and the stainless steel construction repels rust and corrosion. It also has a hold-open clip if you need the nozzle to stay on for continuous watering.
The ring around the nozzle adjusts the spray patterns, and the control for spray pressure is near the back of the nozzle, avoiding any confusion when you're changing up your watering habits. You can swiftly and easily move between jobs in your yard.
It is lightweight for extended use and the rubber handles make this nozzle easy to hold for long periods. It is also great value for your money as it is usually offered at a lower price than comparable models.
---
3. Best Budget – Gilmour Full-Size Zinc Pistol