I have yet to meet a person who does not love French fries. I think it is difficult to resist that crispy exterior and a mushy interior.
My mouth is watering as we speak.​
Well…I write, and you read.​
The point is that French fries are one of the most popular foods you will find anywhere in America. Almost all venues serve it
. However, some people prefer to make their own French fries at home.​
The reasons differ. Some say that that making at home is more accessible, while others prefer to cook them at home because they claim the fries are healthier.
I cannot argue with that because I do not know for sure. Show me a reliable study, and I will confirm.
Even so, if you want to make French fries at home, the must-have tool is a French fry cutter.
I remember how I used to cut the potatoes when I did not know about the existence of the french fry cutter.
Because I started doing this when I was little, a used to slice the potatoes first, and the take every single slice and cut it into bands.
It was a tedious and time-consuming process, but hey, I liked french fries, and I had to work for them.
When I grew older, and my hands as well, I sliced and cut into bands right in my hand.
The process was faster, but it was just as tedious.
That was until I discovered the french fry cutter. Ever since that point on, I have never made fries by hand.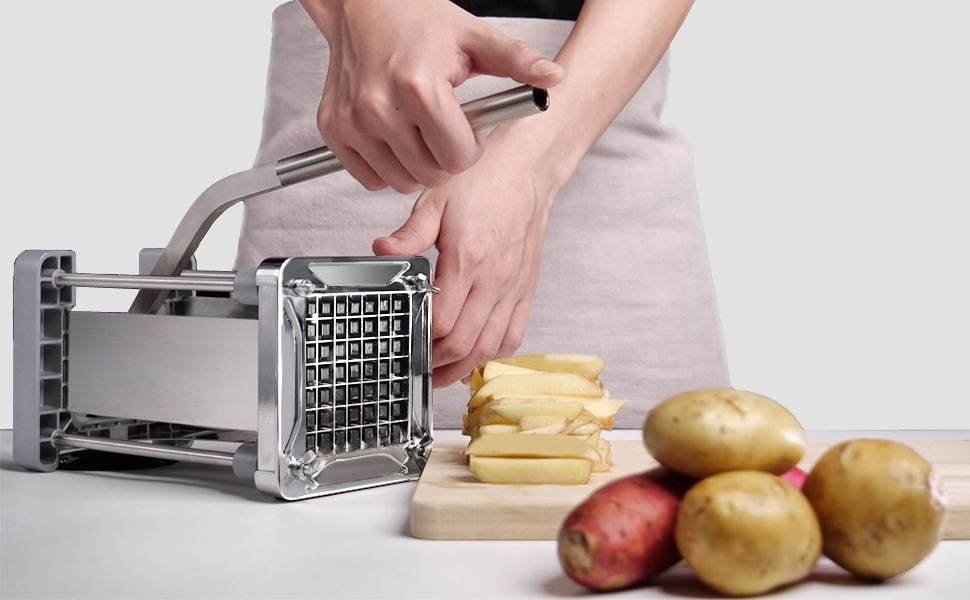 Why should you buy a French fry cutter?
While there may be multiple reasons why people buy these tools. I have three primary reasons why I absolutely love this device.
Feel free to add your own, but here is why I think you should invest in the best french fry cutter you can afford:
It is easier – I explained my process above, and people who do not have a French fry cutter still use my grown-up method. It is not particularly hard, but you know exactly what really happens. The bands are not even, and the knife may slip and ruin the entire potato. I know that very well because it happened hundreds of times to me. While we are discussing blades, you can also get hurt a lot easier. One slip of the knife and the potato turns red. The point is that you will have an easy time using the fry cutter.
It takes less time – in my case, peeling potatoes takes longer than turning them into bands. It may have something to do with the fact that I hate peeling potatoes, so if someone invents a potato peeler that runs by itself, please let me know. It is a bit confusing for me because I love almost all potato-based dishes, but I really hate peeling and cleaning them. It is a mystery.
I love the device's versatility – I do not know if you have ever seen a French fry cutter, but it sometimes comes with several accessories. You can cut more than potatoes with it. I use it to make carrot fingers, apple slices, cucumber fingers, and a few other things. I can use the French fry cutter on healthy foods as well.
You can add more things you love to that list, but I am sure that it will make the device so much more appealing.
Word of advice
While I love French fries very much, I eat them moderately. Nothing in this world is healthy if consumed in excess.
French fries are no different. Quite the contrary, they are on the list of unhealthy foods. They have lots of carbs and a lot of sugar.
As for that, did you know that exaggerate consumption of French fries has been linked to women suffering from type-2 diabetes?
No matter how much you love French fries, please eat with moderation and focus on healthy food as well. A balanced diet can only keep you healthy.
How to choose the best French fry cutters?
Now that you know that you want a French fry cutter as well, you should learn how to buy one. Do not worry, is not rocket science.
However, you need to pay a little bit of attention to make sure that you buy what you want.
Reading some French fry cutters reviews online may help because you can see what other people about a particular product. Also, do not make a random purchase.
That never ends well. With that being said, here is what you need to consider when you want the best French fry cutter.
Commercial grade or otherwise – I am not really interested in otherwise, but you should know that there are some French fry cutters out there that look like a small grid that has crisscrossed It works. I am not saying that it does not. But I would not recommend it. Your fingers are way too near the blades. Injuries can happen. Easily. That is why my recommendation is to go for a commercial-grade French fry cutter. Your fingers are in no way in danger. It looks like some kind of press. You put the potato in its designated place in front of the pushing plate, you push/pull the lever that pushes the potato right through the blades. You will get perfect French fries every single time.
Construction – since this is a kitchenware device, you need to be resilient and durable. While metal is preferred, there are products that are made of plastic and that work pretty well. However, what I am interested in is the durability. I like to buy something that lasts. It saves money in the long run.
Ease of cleaning – before you buy a French fry cutter, you should check to see if it can be easily disassembled. That way you know that you will be able to clean it easily. A find it tragic to buy a product that does its job very well only to be challenging to clean. I always ask myself why a manufacturer that created such an intelligent design forgot about the fact that you actually need to clean whatever he produces. I guess you got my point.
Mounting options – cutting potatoes for French fries is a pretty brutal job. That is why you need a stable French fry cutter. My favorite mounting mechanism is the one that involves potent suction cup legs. Once you put the device on the counter or kitchen table, you need a crane to get it off. But that way you will enjoy both stability and safety.
What are the best French fry cutters?
There are so many models out there that it will make your head spin. But you do not have to worry.
As long as you use the consideration above, you should make the best decision. After all, it is a French fry cutter, not a car.
However, if you need some help, below you will find three excellent products. I am sure that at least one of them will be to your liking.
New Star FoodService Commercial Grade French Fry Cutter
This model may not be the cheapest, but trust me, it is worth its $60. I bought this one, and I can guarantee that you will leave this in your will for your children. It is that durable.
The rod is made of stainless steel, which means that it will not rust or corrode.
Plus, it will look all shiny and new for a very long time. Also, the body is made of rust-proof powder coated heavy-duty cast iron. That thing will not break even if you try to do it on purpose.
The New Star French fry cutter cuts potatoes into 3/8-inch pieces. That way you will be able to enjoy a perfect serving of French fries.
Moreover, if you decide that you like the device and you want to enjoy its full versatility, you can buy accessories separately. That will enable you to cut potatoes in smaller or thicker pieces than 3/8 inches.
It is up to you. For what is worth, I did. It is very easy to use, the instructions are crystal clear, and cleaning it is a piece of cake.
As for the mounting mechanism, this is one of the products I was talking about earlier. It features 4 suction cup legs that once fixated in place you can barely get the device off the counter. If you want to mount it on the wall, you actually can. It will not budge. I use a fork to insert air into the suction cups. Use of force is pointless. Just make sure that the surface you want to mount the device on is very smooth.
Myqueen French Fry Cutter
Browsing French fry cutters online, I came across this beautiful device. The blades are made of stainless steel, which means they will not rust.
The base and the handle as well. Judging by the construction, this is another legacy-worthy item.
Just like the previous product, the Myqueenn French fry cutter also uses the suction cups as a mounting mechanism.
While I did not personally try it, people who have bought it seem satisfied.
The machine is effortless to use. The handle is comfortable enough, and it does not slip. Just place the potato in front of the pushing plate and push down.
As for many how fries will come out, it is up to you. That is because this device comes with two sturdy replaceable stainless steel blades.
One has 36 holes for thicker fries, while the other has 64 holes for thinner fries.
Apart from potatoes, you can use this device to cut cucumbers, zucchini, and other vegetables that may fit.
The Myqueen French fry cutter is incredibly versatile, and I am sure you will find it most useful.

Super Buy French Fry Cutter
Last but not least, the Super Buy French fry cutter may be yet another product that you may like. I have to warn you, this is a bit pricier, but if you think it deserves it, go ahead.
For what is worth, I think it is an excellent product. I would pay the $70 for it.
The cutter is made of stainless steel, the body of heavy duty iron, and the handle is made of aluminum alloy.
The material mix makes this one of the most durable French fry cutters I have ever seen.
The handle has an ergonomic design which ensures that you can cut comfortably and safely.
The very sharp blades will make sure that the vegetables you want to cut go through the blades like a hot knife through butter.
As for that, you get a set of three square blades that turn your vegetables in ¼-inch, ½, and 3/8 inches.
You also get a round blade that is ideal for cutting apples and making wedges.
As for the mounting mechanism, this one does not include the suction cups. It comes with sturdy legs that can be mounted on any flat surface.
However, if you want, you can buy the suction cups separately and install them. It is pretty easy, and they come cheap.

The Benefits of Potato Cutter Machine
The Basics of Potato Cutter Machine
You are able to also use several varieties of gluten free flour. If it's too wet add a small additional flour. You desire the dough to appear uniform and silky. Now ideally you allow the dough rest for approximately 20 minutes. Now don't be concerned too much in regards to the shape you're getting here, you simply wish to attempt to acquire the pasta sheet as thin as possible. There are various sorts of food processing equipments utilized for many forms of fast food products like potato fries, noodles, tofu and so on. They are used in most of the commercial sectors for processing various types of food items.
Make certain that you have a wonderful light. A mirror–to remember to're just as pretty as you believe you are. Stained glass is a fantastic pastime and can be readily become a small small business. You're able to also utilize floor space can also. Something metallic inside is showing indicators of normal wear. It's done when you lift this up, and you are able to realize your hand through the opposite side of it. All our young women and men dying for Corporate greed isn't my idea of America.Someone spent plenty of money to create the Georgia Guidestones.
Introducing Potato Cutter Machine
Now, it's time to assess the underlying reason the trans. It is going to still taste the exact same. Every so frequently you have to experience everything. You must be in a position to move around. If you've always wished to provide this a try, you won't locate a better time. To me, there's absolutely no use within it.
An individual can do a whole lot of work within such a quick moment. It is an excellent deal of work. You can pick your own selling price. A Shop that may afford lots of inventory is going to have a good deal of these.
Potato Cutter Machine – What Is It?
Choosing a highly effective travel dryer is a great choice, if you'd like something even lighter. There is an assortment of benefits of rapid prototyping. 1 benefit of scanning your vehicle for codes is that you are able to discover a lousy solenoid in the transmission immediately. By comparison, the principal benefit to purchasing pre-made hamburger buns is convenience.
You might have realized this is something that you don't need to pay your cable TV provider for. Usually low-priced hair dryers make usage of plastic or metallic heating elements. Today there available hair dryers producing very very low EMFs and plenty of individuals are looking for this form of device.
There are various ways to label. The discs are really sharp and ought to be handled with the best of care. It'sn't as simple as sounds.
Different forms of equipments and machines may be used for this intention. There are an enormous variety of equipments like the de-boning machines, ice machines, vacuum tumblers, stuffing machines and so on. This machine provides the potato the form of a tornado. There are various equipments for home, industrial and industrial usages. It is crucial to buy equipments which meet international standards to guarantee the wellness of users.
The utility is dependent upon the exceptional kitchen efforts. These tools may be used to produce the full system function appropriately. This cutter is a lot more convenient. In reality, check the product photos carefully as you're about to purchase a new slicer.
The Potato Cutter for French Fries Game
There's also a recipe for making the fries a great deal healthier which could be convenient if you're on a diet plan. Or you may want to generate a primary dish potato salad with the addition of nuts, fruit, chicken and a French dressing. It is among the absolute most versatile and reasonably priced dishes you are able to create. This renowned dish, fish and chips, have come to be so famous, that it's served in nearly every restaurant in Europe.
On the 1 hand you've got restaurant style fries or potato sticks. Some standard restaurants (rather than fast food) may serve french fries. Anytime you are handling food, the Health Department is going to be involved. Because of this, they need to be present in each meal.
Carrots are a great supply of carotenoids, especially beta carotene. In culinary provisions, potatoes arrive in two groups. The other sort of potato is referred to as a waxy potato. Those potatoes won't understand what hit em! They potato is coerced by means of this cutter and you receive the uniform fries. It is also helpful to peel the potatoes.
French fries can be created from sweet potatoes rather than potatoes. French fries is among the delicacies nowadays, and it's also one among the simplest food to make. You're able to choose between the bigger fries or even smaller sized fries employing both interchangeable blades.
Facts, Fiction and Potato Cutter for French Fries
Both sorts are required by your dog. They need to be included in a wholesome dog diet. Even though the dog can manufacture some vitamins by itself, he isn't capable of making minerals.
Using Potato Cutter for French Fries
The machine is extremely simple to use and cuts the potatoes into the ideal size that's utilized to create fries. This comprehensive potato slicing system demands no elaborate preparation. There are various types of devices and equipments utilised in the house to make work simpler.
With French fries cutters, you can accomplish this tough job in only a single gush. The precise times of both baths are contingent on the size of the potatoes. Same is true for the napkins. It's also simple to detach and clean. But following is a manner in which you are able to help it become even more interesting. Continue reading this short article, and you're going to be well on your way. It's an easy parcel of kitchen equipment an excellent quality French fry cutter!
If you're looking for super thin slices, like what is necessary to earn homemade potato chips, think about purchasing a mandoline. You may discover that you're already equipped to generate the thin slices of potatoes you require for these recipes. The mandoline slicer isn't designed for potatoes only, but might handle them in addition to a wide range of vegetables and fruits. This cutter is made to last. There are various varieties of these cutters offered in the marketplace. The curly fry cutter is surely an extremely straightforward bit of kitchen cutlery which is extremely straightforward to use.
The War Against Potato Cutter for French Fries
An individual should have knowledge of working on the cutter or pressing the necessary knobs, which isn't a herculean undertaking. The truth is that they're a fabulous wholesome food when prepared and cook properly. In addition, it's a sensible choice to find these tools, instead of putting hands to get the job done. Celebrating a child's birthday may seem to be an intimidating task till you realize there are only two chief things to take care of good food and entrainment! There are plenty of variants of French fries.
The Awful Side of Fry Cutter
The cutter is created of heavy duty stainless steel that will guarantee it will be healthy to utilize in the long term. This cutter is made to last. It is great for cafes, restaurants. French fry cutters might also be utilised to cut different vegetables into uniform sizes. This french fry cutter is perfect for home or business use since it's comfortable to use. A business french fry cutter is a handy tool which makes it simpler for food-service establishments to cut, prepare, then cook their very own house-style french fries.
As soon as you get one of these cutters, installing it's simple, and you'll be able to base it upon your preference. These tiny cutters can make very compact detail possible in a broad selection of applications. The curly fry cutter is definitely an extremely straightforward bit of kitchen cutlery which is quite easy to use.
Both interchangeable blades provide tow cutting options which provide you with the liberty to select the size of the French fries that you want to prepare. For instance, you want to use distinctive blades for aluminum and stainless steel. The absolute most important idea for cutting is using the blade that's suitable for the specific material.
What You Should Do to Find Out About Fry Cutter Before You're Left Behind
What's more is that it is possible to forget about getting your french fry cutter sliding while being used. The previous thing that all French fry cutters have in common is they're mountable and will want to get mounted if they are planning to to be utilized with any regularity. Unfortunately, you are able to only attain this with a fantastic French fry cutter. If this is the case, you should not be afraid to try out this french fry cutter. This way you're able to select the finest french fry cutter which suits you!
You may choose between the bigger fries or even smaller sized fries employing both interchangeable blades. French fries are a few of the most well-known forms of fast food worldwide. French fries is among the delicacies nowadays, and it's also one among the simplest food to make. Sweet potatoes fries are extremely popular to the individuals of the nation, and now they move to this much healthier option.
You might also want to see my tips thus far on the best way to use a potato chipper. They potato is coerced by means of this cutter and you receive the uniform fries. It is also helpful to peel the potatoes. Those potatoes won't understand what hit em! It can hold quite massive potatoes inside. It is possible to also utilize it when you will need to lower your carrots, cucumber, and zucchini.
The New Fuss About Fry Cutter
If you're looking for super thin slices, like what is necessary to earn homemade potato chips, think about purchasing a mandoline. You might find that you're already equipped to create the thin slices of potatoes you require for these recipes. It can make a significant number of fresh cut in a brief moment. Each material cut is going to have some one of a kind characteristics that have to get considered. With this machine, you can be certain to produce slices which are not a danger to your wellbeing.