Once the most loathsome of gifts one could receive, socks are quickly becoming a unique and fun way to not only express one's creativity but also a beloved gift item to receive for all manner of occasions.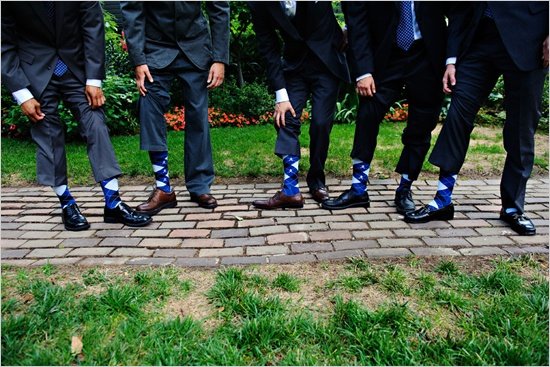 From birthdays to holidays, you can find socks of any variety to give as a gift, making it one of the most versatile options for the men in your life. They make particularly great options for special occasions such as weddings, especially since men's suits are so hard to customize or personalize.
Continue reading below for a list of the 10 best men's dress socks for weddings, running the gamut from fun to stylish with options for every personality in between. You will quickly realize how vast the market is for this gift item, especially when it comes to finding the right pair for your special occasion. These are definitely not the socks you used to cringe at for birthdays or Christmas as a child and will help make your wedding celebration a memorable and special occasion!

Socks for your Best Man
One of the most momentous occasions when planning your wedding is deciding who will be your best man and then asking them to do you the honor. While not the first option that springs to mind, gifting a pair of high-quality socks can be a great way to ask this important question of your best friend or family member.

Check out this resource from No Cold Feet for a breakdown of different options that allow you to personalize the label for the special person you hope to ask to stand at your side on your big day!

Socks for the Groom
Ahead of the wedding, there are plenty of celebrations that often require gifts such as engagement parties and bachelor parties. A great option is to find a themed pair of socks for each of these occasions, whether they be humorous or stylish or some mix of the two.

Bright Colors
In recent years, socks have become a statement piece for most men's wardrobes, vastly different than the plain white or black socks of days gone by. You can find socks in a whole rainbow of different colors, from bright neons to sophisticated pastels, ensuring you will find the right option for the recipient's personal taste or style.

Unique Patterns
Patterned socks are another way in which this wardrobe staple can be elevated and customized to the tastes of the person to whom you are gifting them. Stripes and dots mix with florals and geometric patterns for a range of options that will leave you wondering which to pick in the end! These unique patterns give you the chance to really customize your wardrobe and express your personality in a fresh new way.

Personalized Socks
One way to make this unusual gift item a little more special is to find personalized socks to celebrate the groom or groomsmen in your life. From monograms to surnames and even meaningful quotes or phrases, this personalized gift will surely be a special one. The added bonus is that it shows how much thought and care you put into selecting this gift item for the man in your life.

Designer Socks
When it comes to the world of socks, you will be amazed at how popular this once basic item has become. Big fashion houses and break-out designers alike have created a wealth of options for high-quality, designer socks that take your outfit to the next level when it comes to fashion. Not only are these name-brand accessories stylish and sophisticated, but the quality of them will ensure that they last for many years to come!

Coordinating Socks
One important part of weddings and wedding parties is to ensure a cohesive aesthetic for the group as a whole. While women have the option to coordinate their outfits, men too can find unique ways to pull the whole look together. One of the best ways in which to do that is to coordinate the colors and styles of accessories like socks and pocket squares.

Novelty Socks
Nerves are inevitably part of every man's big day and one of the best ways that you can lighten the mood is to bring some humor into the occasion. The expression "getting cold feet" lends itself perfectly to giving the gift of a pair of novelty wedding socks to the groom in your life as he prepares to walk down the aisle on his big day.

Socks as Wedding Favors
Wedding favors are one of the best ways to personalize your wedding as well as create a consistent theme. One popular option is to create unique favors for the men and the women each and themed or customized socks can be an ideal and cost-effective gift for the attendees of your special day. Not only that, but this gift item is also a practical one, ensuring that you get the most return for your investment.

Honeymoon Socks
One surprising way you can gift socks to the soon-to-be-married man in your life is with a pair of socks to celebrate their upcoming honeymoon. Whether it is a tropical destination or somewhere cooler, you will be able to find a fun and possibly humorous pair of socks to gift for this special moment in their life.

While socks used to be one of the most boring gifts that one could give, recent years have brought a number of new and exciting options to the market. No matter what you inevitably decide to purchase, be sure to find a reputable resource for product reviews and gift ideas so you can rest assured that you are finding the perfect gift item.

Celebrating an occasion as special as a wedding is always a memorable moment and the gifts you give to the men in your life should be just as memorable. With some research and an eye on the products available, dress socks could easily be one of the best gifts to give for this event. Happy Shopping!