Kids usually start the school year with a full arsenal of supplies: pencils, pens, sharpeners, colors, rulers, scissors, etc.
However, as the months go by, you'll begin to hear the students ask for borrowed supplies, which is why it's good to have a couple of supplies at hand inside the classroom.
One of those supplies you should have ready is an electric pencil sharpener.
Now, before you go to your nearest supermarket and get the first one you see, there are a few things to consider before getting an electric pencil sharpener, such as the age of the students, safety, and utility.
BEST VALUE
schoolsmart vertical
Best Seller
x-acto schoolprox
Also Consider
office goods sharpener
Below you'll find a review of the best electric pencil sharpeners for your classroom, so you won't have to waste time figuring it all out.
Best Electric Pencil Sharpeners 2021
1.

X-ACTO SchoolProX Classroom Electric Pencil Sharpener
Pros
Six different pencil shapes
Suction cup feet
Auto-reset feature
Spiral cutter
Long cord
Silent motor
Big receptacle
The blade can be replaced once dull
Great for younger students
Cons
Not good if you want a pointy tip for precision
This electric pencil sharpener was designed specifically for classrooms.
It's heavy duty, durable, and can take a beating, which makes it a perfect tool for classrooms with many students, especially if they are young and don't know how to handle things with care.
It has a spiral-shaped cutter that sharpens the pencil enough for clear, crisp writing, but keeps it blunt enough that the lead won't break apart with minimal pressure, or the student using it won't get hurt.
Another reason this sharpener is good for younger kids is that it has an auto-reset function that automatically stops sharpening the pencil once it is sharp enough.
Not only does this help pencils last longer, but it also denies any over-sharpening.
The X-ACTO SchoolProX has six different pencil sharpening sizes and can sharpen nearly any pencil or color pencil with ease.
The safety measures in this sharpener were designed to ensure the longevity and efficiency of the product. It won't function unless the shavings receptacle is in place.
The auto-reset makes sure the sharpener won't overheat, and the suction cup bottoms make sure the sharpener stays in place.
Overall, it's one of the best sharpeners for classrooms in the market.

2.

SchoolSmart Vertical Pencil Sharpener
Pros
Sharpens quickly
Long cord
Vertical design that doesn't take up space
Leaves a very sharp tip
Auto-stop feature
Cons
Not good for anything other than a standard pencil
The motor is a bit loud
The shavings receptacle is small
If you want a good, mid-range priced electric pencil sharpener that is durable, School Smart has you covered.
The School Smart Vertical Pencil Sharpener has a sleek design that doesn't take up a lot of space.
Unlike other electric pencil sharpeners of the same price range, this one doesn't feel poorly made at all.
This pencil sharpener has an incredible, thoughtful, vertical design that you barely see in most sharpeners: instead of pushing forward to sharpen the pencil (thus risking pushing the sharpener off the table if you push too hard), you push down, which means you don't have to hold down the sharpener with your other hand to ensure the sharpener stays in place.
That said, the sharpener does have an anti-skid bottom that prevents it from sliding off the surface.
The School Smart sharpener is good for a standard classroom. It's simple to use, efficient, and durable.
However, its simplicity is also its fault when it comes to teachers who would like to use it for more than just #2 pencils. The sharpener doesn't do very well with colored pencils, so it's not great for art classes.
The auto-stop feature makes it so that the sharpener stops once the pencil is perfectly sharp.

3.

Electric & Battery Operated Pencil Sharpener by OfficeGoods
Pros
Option to power it electrically or with batteries
Compact
Quiet
Different sharpness modes
Great for all kinds of art pencils
Cons
Single-sized hole
Small receptacle
OfficeGoods has designed a fantastic pencil sharpener for teachers on the go.
This pencil sharpener can be used in a variety of ways while still being functional and easy to use.
One of the most attractive features in this sharpener is the three 'sharpness' modes it has.
You can choose between having a blunt, medium, or sharp pencil tip.
This ability to choose the sharpness of your pencil is great for art teachers and students who want a better control of their line precision.
The compact design doesn't take up much space and it easily fits in your purse. It's a useful little tool for teachers that have to change between different classrooms throughout the day.
However, it shouldn't be used for larger classrooms due to the small size unless you are alright with throwing away the pencil shavings every 30 minutes or so.
You can power it with 4 AAA batteries (Which aren't included with the sharpener itself), a USB cord, or an average cord.

4.

Bostitch QuietSharp 6 Classroom Electric Pencil Sharpener
Pros
They operate silently and don't make noise
It is a versatile sharpener as it can sharpen different sizes of pencils
Has a high capacity shavings receptacle don't doesn't need frequent emptying
Ha a safety feature that stops functioning when tray is removed
Bostitch is a top notch brand when it comes to electric pencil sharpeners.
This model of Bostitch has most of the features found in the best brands. Its motor is very powerful and operates silently.
Also, it has 6 different holes sizes for placing various sizes of pencils during use.
The tip saver technology enables you to sharpen the pencil without worrying it being wasted when the perfect tip is attained. Get this electric sharpener to start enjoying is efficiency in your office or at school.
Key features:
Tip saver technology
Super duty motor
Tamper proof shut off safety feature
Quiet operation
6 different sized holes for sharpening

5.

X-ACTO TeacherProX Classroom Electric Pencil Sharpener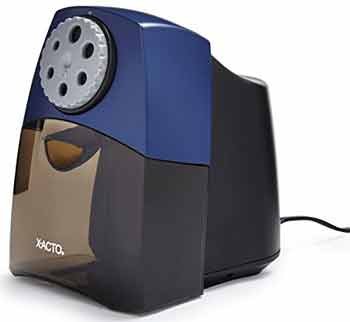 Pros
Large shavings receptacle
Quiet
Long cord
Durable
Great for older students
Rubber feet
Six pencil sharpening sizes
Cons
Cannot replace the blades
Not a lot of safety measures
No auto-reset feature
The X-ACTO TeacherProX is one step up in terms of durability than its more child-friendly counterpart, the SchoolProX, but it has less safety features.
It uses a steel helical cutter that sharpens the pencil to a perfect tip. It does leave a sharper tip on pencils, more so than the SchoolProX.
Also, the motor keeps running even if the pencil is already sharp, so consider this sharpener for older students that are less likely to hurt themselves with sharp pencils.
It does have a much larger shavings receptacle than the SchoolProX, and it can withstand daily use for years on end.
It can sharpen any kind of pencil, whether they are composite pencils, hardwood pencils, colored pencils, etc.
The only downside is that, unlike the SchoolProX, you cannot replace the helical blades once they get dull.

6.

Artist Choice Electric Sharpener with Helical Blade
Pros
More affordable than most art sharpeners
Powerful motor
Great for art classes
Portable
Cons
If you're looking for a strong, dependable sharpener that can satisfy your need to have sharp pencils for art, you might want to turn to this battery powered sharpener.
Affordable, powerful, and convenient, this sharpener can create a perfect tip on even the most stubborn pencils no matter what material they are made of.
It is incredibly small, which means you will have to get up to throw away the shavings every once in a while, but it does make up for that little issue with other useful features, such as the spiral blade that that is strong enough for any pencil, but its flawless design will keep it from breaking even the softest pencils.
Although it can sharpen any pencil, this electric pencil sharpener shines with colored pencils.
Of course, it can be used in any kind of classroom, but it was designed to handle art supplies the best.

7.

X-ACTO ClassroomProX – Classroom Electric Pencil Sharpener
Pros
SafeStart feature
Auto-reset feature
Spiral blades for even sharpening
Quick sharpening
Long cord
Silent motor
Cons
Small receptacle
Flimsy receptacle
Great for smaller classrooms, the X-ACTO ClassroomProX is simple and well designed.
Like the SchoolProX, it also has an auto-off feature, except this one gives a visual indication with LED lights once the pencil is sharp enough.
The SafeStart feature and auto-reset feature are there to ensure that children won't get hurt.
The SafeStart feature makes sure the sharpener won't function unless the lid is on, which is extremely important since a portion of the cutters are exposed as soon you open the lid.
The auto-reset feature prevents the sharpener from overheating.
This sharpener isn't built quite like its other counterparts in terms of durability.
Although the blade is steel and will last a long time, the receptacle itself is a bit flimsy, so invest in this specific sharpener if your students know how to be careful with it.

8.

Electric Pencil Sharpener – Battery Operated (No Cord) By TripWorthy
Pros
Great for art classes
Portable
Good safety features
Easy to clean
Sharpens evenly
Can sharpen a variety of pencils
Cons
Small receptacle
No auto-reset feature
Slightly larger than the other batter powered sharpeners but still as portable, this electric sharpener from TripWorthy works well with colored pencils of any shape and size and standard #2 pencils.
Put it in your bag or place it comfortably on any surface without worrying about a place to plug it in.
It's easy to disassemble if you need to clean off the wax on the spiral blades, and it is very safe for children, as the machine won't start if any piece is not in place.
The elegant, rounded design allows the sharpener to fit snugly alongside other art supplies without taking up space.
The receptacle is easy to take off and place back on again. Overall, it is a reliable sharpener that should be in every art class.

9.

LINKYO Electric Pencil Sharpener Pro with Multi Size Insert Slot
Pros
Auto-stop
Built-in compartment for pencils
Large receptacle
Spiral blade – Strong motor
Semi-transparent receptacle
Vertical design
Cons
The outside breaks easily
If you want to find a simple sharpener that doesn't take up too much room on your desk, this LINKYO sharpener is excellent for smaller classrooms with less students.
It's not meant for heavy use, as most of the material is plastic and can break easily, but with proper care, it can last years.
It can sharpen normal #2 pencils as well as crayons, color pencils, and more, with its powerful motor.
With its vertical design, you can place it comfortably anywhere and it won't take up a lot of space. But the design isn't all it has to help keep your desk tidy and spacious.
The LINKYO Electric Pencil Sharpener has an incredibly useful, built-in compartment for you to hold your pencils.
This ingenious design allows you to have both your sharpener and pencils at hand in one place.
Another smart design feature is the semi-transparent receptacle that allows you to see if there is anything jammed between the blades.
It doesn't sharpen anything if the lid is off and it as auto-stop, so it is safe for children to use.

10.

OUSI OusiDirect Pencil Sharpener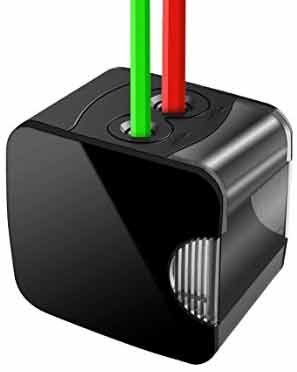 Pros
Compact design
Replaceable blades
Good safety feature
Two different diameter holes
Cons
No auto-off feature,No spiral blade
The OusiDirect sharpener is a perfect addition to any classroom.
It may not have the cutting-edge technology of other pencil sharpeners, but it makes up for it with performance and durability.
The OusiDirect sharpener has two diameter holes, so you can sharpen pencils of different sizes.
It doesn't have helical blades like other electric pencil sharpeners, but it does come with blades that can be replaced once they become dull.
Despite the fact that it's missing that 360-degree spiral sharpening, it still sharpens evenly.
You won't have to worry about kids hurting themselves with the blades, because it won't sharpen unless the lid is on.

Benefits of Having an Electric Pencil Sharpener in the Classroom
It teaches students about responsibility: If you have an electric pencil sharpener in the classroom, assigning the students cleaning duty at the end of each class can give them something to do that keeps the classroom clean.
Avoids fighting: Having a pencil sharpener the entire class can use avoids trouble between classmates if a careless student accidentally loses a borrowed pencil sharpener.
Less worrying: The students have to worry less about remembering where they placed their sharpeners or whether their handwriting looks ugly because of a broken or blunt tip and can focus more on learning.
Enforces rules: Kids raising their hands and asking permission to use the sharpener can help enforce the classroom rules for a more polite and organized class.
Disadvantages
It can get messy: If the students aren't careful, they can accidentally drop the sharpener and cause a huge mess.
It can be a distraction: Children can use sharpening their pencils the same way they sometimes use going to the bathroom—as an excuse to get up and not do their work. Also, if the electric sharpener makes a lot of noise, it can be distracting for the other students and the teacher.
Safety: If the sharpener doesn't have to appropriate safety measures for the age of the students, they could get hurt by overheating it or putting their finger and other unsuitable things inside. That's why it is important to make sure to check out all the features and specifications to buy the correct sharpener for the class.
The class might depend on it too: If the sharpener breaks and the students depend on it, then there might be some issues with writing things with pencils for as long as the sharpener is broken or remains un-replaced. It's always best to encourage students to carry their own sharpeners or to at least have a backup in case anything happens to the one everyone uses.
Best Pencil Sharpener Buyer's Guide
There are many models and brands of pencil sharpeners out in the market. As such, to buy the best pencil sharpener, you must know what specifics to consider.
After all, you want to end up with a sharpener that will give you the absolute best tip.
Here is a comprehensive pencil sharpener buyer's guide that to ensure that your quest for the ideal sharpener starts on the right footing.
The Design Elements
The design of a sharpener should accommodate as many pencil shapes as possible.
Select a unit that will sharpen hexagonal, circular and triangular pencils with ease.
While most sharpeners can handle different shapes, there are those designed to accommodate a particular shape.
Unless you only deal with one shape of writing or drawing pencils, the design of your sharpener is paramount.
In other words, the more versatile a sharpener is, the more useful it is.
If small kids are using the sharpener, you may want to consider a unit that has non-skid feet to prevent movement during operation.
The Size of Your Pencil
You are better off with a sharpener that can handle different sizes of pencils.
While a standard pencil has a diameter of 8 mm, there are those with a diameter as big as 10.5 mm. Be sure to look for a pencil sharpener with multiple dials to allow various pencil sizes.
You certainly don't want to result in sharpening your pencil manually because the sharpener you bought can only handle one size of pencils.
The Lead Point
How do you like your tip?
Do you prefer it blunt or sharp? It is important that you choose a pencil sharpener that will give you your most preferred tip to avoid unnecessary waste of time shaping the tip according to your preference.
The Sharpening Angle
Speaking of lead points, the sharpening angle might as well determine the tip you end up with and as such it's a major consideration to make when buying a pencil sharpener.
Different types of sharpeners are designed to sharpen pencils at different angles. If you choose a sharpener with a large angle, you will get a larger lead point which means that you will have to sharpen the pencil more often.
Sharpeners with a smaller angle will give you smaller lead points that are sturdier with less breakage. The best pencil sharpener should offer a sharpening angle of 74 degrees.
Cleanliness
The graphite marks left by a sharpener on the wood might be a cause for concern.
If you prefer your pencil with a natural look, you may want to consider the amount of residue the sharpener of your choice leaves behind.
Additionally, consider buying a sharpener whose handle reduces the level of contamination especially if multiple users will access the sharpener.
Construction Material
The materials that a sharpener is made of somewhat determines the durability.
Depending on who will use the sharper, go for a unit that promises long life.
If the sharpener will be used in a busy class or office, a metallic unit would be the best option. Sharpeners with a plastic housing are ideal for single users.
The Size of the Sharpener
The size of a sharpener ultimately determines its convenience. If you are buying the sharper to be used in an office, you may want to consider the size of your desk before making a purchase.
Choose a unit that is compact to save you storage space. Again, a small sharpener is easy to carry around even outside the office.
Customer Reviews
Check out what others have to say about a sharpener before you buy it. Highly rated sharpeners with lots of reviews are likely to make the best purchases.
Besides, you will have an idea of what to expect with the sharpener even before you buy it. If you want to buy an electric sharpener, for instance, go to the electric pencil sharpener reviews section first.
You will get trusted customer reviews from online retailers such as Amazon or the official manufacturer's website.