Any successful business, whether you like it or not, needs a proper marketing strategy. Marketing has always been about advertising the absolute best qualities of a brand to the company's user base. Yet as the world became more technologically advanced, so did the concept and utilization of marketing.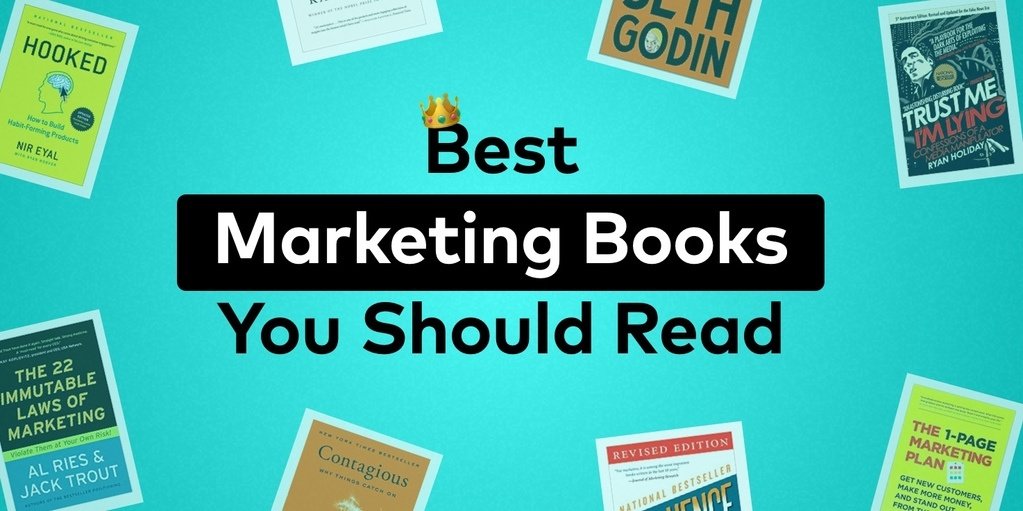 Nowadays professionals have observed that consumers have shifted their attention to digital mediums for their product information, so naturally, marketing has to move with them. New methods of promoting a brand to the public must be taught and learned to become marketing specialists.

Although people believe that anyone can be a great marketer with a laptop, internet connection, and an amusing online platform, the world of marketing is much more complex.

Maintaining that brand and its reputable status is the true key to a great marketing strategy. This is the step where a small business can boom into a major entrepreneurial empire.

If you are intrigued about marketing, interested in elevating your marketing skills for your career, looking for more tips on how to market yourself, or just generally curious about how successful marketing methods psychologically influence customers, then you can read up on some awesome books.

There are plenty of marketing books that are a great and impactful read, but here are just five that you should check out.

The Tipping Point by Malcolm Gladwell
This Cool Things Chicago guide claims that this particular book is a great start for marketing beginners. While this novel does not discuss specific details on marketing, it does explore the ultimate goal of marketing very efficiently.

The "tipping point" was coined by the book's author Malcolm Gladwell and is  now used quite often in the marketing industry. 

The term illustrates the time when a product, idea, or group reaches a peak and suddenly becomes a popular trend. Therefore, marketers aim to have their company,  products or services make it to that tipping point.

Essentially, Gladwell delineates three rules that help create ideas bound to spread like wildfire in terms of popularity and will aid marketers to reach the desired tipping point.

As a novice in marketing, this read should be on the top of your list.

All Marketers Are Liars by Seth Godin
Even though the title may seem unorthodox and not at all supportive of the marketing field, Godin is proposing a new perspective on marketing strategies.

Godin argues that marketing is not fact-based, but rather relies on authentic story-telling and a genuine charisma of a marketer. Clients ultimately will respond to the most believable "lies".

The author claims that the key question to ask when producing a marketing strategy is:
"What is your story?"

The book provides multiple examples of how to create a marketing strategy as a wonderful and sincere story. At the end of the book, you will become not only a successful marketer but an authentic one at that.

Contagious: Why Things Catch On by Jonah Berger
This book investigates the power of word-of-mouth and social transmission when attempting to elevate a business's brand. Berger describes six principles that ultimately make a product or service "contagious" enough to skyrocket into a trend.

Even though advertisements are still popular, especially when delivered digitally, Berger argues that simply talking to each other about admired products is the most effective method.

Some of the examples Berger explores include workplace rumors, YouTube videos, and policy initiatives that can become a part of a successful marketing campaign.

Berger's novel will teach marketers and entrepreneurs to create content that customers will love to talk about, ultimately enhancing the company's visibility and appeal, not to mention making the product catch on with the general public.

So curl up with this awesome book and a great cup of joe to learn about how you and your high praise can make a product more popular in society.

Hug Your Haters: How to Embrace Complaints and Keep Your Customers by Jay Baer
Baer's novel is one of the best in breaking down how customer service has changed due to the invention of social media.

Even though a majority of businesses report having excellent and satisfactory customer service, only 8% of their customers agree. That percentage is low because about a third of customer complaints are unanswered and they live mostly online.

With this reality in mind, this book will help marketers and others in the business to reshape their customer service in such a way that every possible customer can voice their concerns publicly without any trouble.

Moreso, Baer teaches professionals in the business industry on how to face critics and make their business more successful.

Content Machine by Dan Norris
Norris's novel is a solid choice to become more familiar with content marketing. He outlines a step-by-step process that will ultimately make a small business transform into an empire without advertising.

Content Machine focuses heavily on how to produce a successful business endeavor solely based on an impactful content marketing strategy 
This book simplifies the curation of content writing through various tips, fundamentals of the skill, and the mistakes that content marketers must avoid.

As content marketing is becoming more and more crowded, the Content Machine showcases how businesses can stand out from their competition.

Any person – from blogger to a top-notch marketing manager – will learn something valuable and new about content marketing when finishing this book.
To become a successful entrepreneur, not to mention a marketer, one must consume as much information and new knowledge to catch up with the advancements in the field.

Marketing has never been this different before, and new strategies must be acquired and applied to reach the top.

These books not only outline multiple avenues to success, but also the mistakes different professionals in the business industry must make and learn from, not to mention never repeat.

At the end of the day, the novels mentioned above offer an edge any business can adapt to survive the competition and the scrutiny of the public that craves something unique.

Consider buying one of these books to learn more about how to elevate your business endeavor while also entertaining yourself a bit more during these quarantine times.