The website HappyCow — aka Yelp for vegans — lists over 24,000 veggie eateries in the United States. Of those 24,000 eateries, at least 1,474 offer strictly vegan menu items.
This is excellent news for vegans, whose population is increasing annually. In fact, the number of vegans in the U.S. increased from 1% of the population in 2014 to 6% in 2017. That's a 5% increase in as little as three years!
Unfortunately, those 24,000 veggie restaurants can be kind of spread out, sometimes leaving vegans no dining options when they need it. When that happens, having a few select vegan kitchen tools at home can be the difference between going hungry or having a nutrient-rich diet.
First, we're going to discuss the parameters of veganism, so you know exactly what you're getting into (for those new to the diet).
Then, we'll check out 10 must-have items for your kitchen so that you can get to cooking!
What Is a Vegan Diet?
Now, if you're reading this article, it's likely you know there's a difference between veganism and vegetarianism.
But to clarify, we'll discuss exactly what a vegan diet is, so you can shop for the proper ingredients to use with your brand-new kitchen appliances.
The vegan diet is entirely devoid of all animal products — including meat, eggs, and dairy. Sometimes, a vegetarian may have eggs or dairy, but vegans opt for nothing animal-related. They attempt to avoid any and every form of animal exploitation.
This can be for reasons either personal, ethical, environmental, health-related.
When walking down the aisles of your grocery store, avoid the following items:
Any kind of meat, poultry, or seafood
Any dairy, i.e., cream, butter, milk
Eggs
Honey (as it comes from bees)
Other animal-based ingredients, such as lactose or whey
There are many ways to follow this diet plan depending on your lifestyle.
But, in general, a vegan diet consists of the following:
Nuts, including nut butter and nut milk
Seeds, such as chia or flax
Tofu and tempeh
Legumes, such as beans, lentils, or peas
Plant milk
Types of algae
Whole grains, like cereals
Fermented foods, such as kimchi or sauerkraut
Fruits and veggies
Leafy greens like bok choy, spinach, kale
Avocados
There are unique and various ways to prepare this food, whether it's avocado toast, a nutrient-rich shake, or as a bowl.
Check out how these tools can help.
Must-Have Vegan Kitchen Tools
For those times when you can't get to a vegan restaurant, try cooking at home with one of these appliances instead!
1. Blender
A blender is perhaps a vegan's best friend in the kitchen.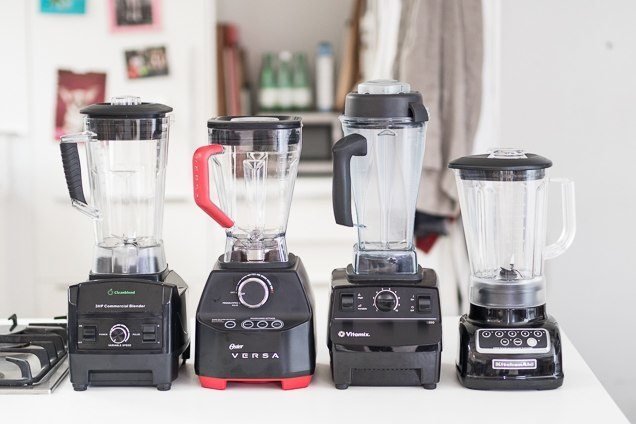 Creating smoothie recipes is an easy way to incorporate a vegan diet into your lifestyle. You can also learn how to make your own vegan ice cream using a blender. The options are pretty limitless here.
Consider a breakfast smoothie to last you through your morning:
1-2 cups of almond milk
An avocado
Fresh fruits, such as berries
A handful of kale
A sprinkling of chia seeds
A dash of turmeric
You can even put a pinch of protein powder in there to up your protein intake.
As we said, blender recipes are as unique and varied as you'd like. Get creative!
2. Spiralizer
This is a fancy way of saying noodle maker!
A spiral veggie slicer takes the hassle out of creating noodles from your favorite veggies, like zucchini. It also takes some of the carb-heaviness out of your average noodles. On top of that, it's super affordable, with some of the more pricey options only being about $40.
Their shape resembles a toaster, and their function is like a pencil sharpener. Place a firm veggie in there (which is why zucchini is a popular option), clamp it in over the grinder, and swirl away. The result is thin-cut, gently-spiraled noodles.
You can use it to make a vegan pasta or to just make more consistent cuts of things, like pumpkin for a salad.
At the end of the day, though, you're producing flavorful noodles that are carb-, gluten-, and grain-free. And it's easy to do!
3. Rice Cooker
As a vegan, you're bound to eat a lot of rice, so it's time to become friends with your rice cooker.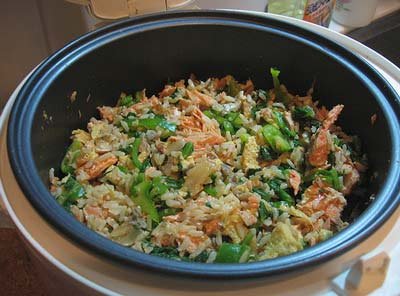 Rice cooking happens in four stages:
Sitting in water
Boiling in water
Absorbing the water (aka, steaming)
Resting
Often, we don't have to time (or the will) to watch rice go through these four stages.
The rice cooker pushes rice through these four stages for you. While it does take about the same amount of time, it takes some of the annoyance of staring at your pot out of it.
4. Crock-Pot
For all your yummy, slow-cooked soups and jambalayas, turn to your crock-pot.
This is a great way to 'set it and forget it.' If you've got a busy day (or week) ahead of you, put all your favorite ingredients into a crock-pot and let it slow-cook while you're at work. Then, you can arrive home to the smell of a delicious dinner.
We love the slow-cooked bean and veggie soup:
1 lb. of your favorite beans, soaked overnight
3 diced carrots
2 stalks of celery, diced
1 diced onion
3 cloves of minced garlic
4 cups of veggie broth
2 cups of water
Seasoning of your choice, such as salt, pepper, sage, garlic salt—whatever your favorite is
Place everything in the crock-pot, cover it with water and broth, and let it cook on high for 6-8 hours.
If bean soup isn't your thing, let this be the inspiration for the many soup recipes you can stick in your slow-cooker.
5. Food Processor
A food processor is an excellent tool for anyone to have in the kitchen.
Like many of the other appliances on this list, it takes the work out of preparing your food.
A food processor can slice, dice, chop, grind, and puree whatever your heart desires. You can even use it in unique ways, like to knead your own bread dough at home! Or, try creating a fantastic salsa with one.
Like the crock-pot, your options are pretty limitless with a food processor.
6. Juicer
Unlike a blender, a juicer works to extract juice from all your favorite fruits and veggies.
Using a juicer, you can make yourself homemade, fresh juice whenever you want. Now, this does take the fiber out of your ingredients, so if you want fiber-rich foods, consider your blender or food processor instead.
There are advantages to having both, however.
A juicer gives you the juice from your favorite fruits or veggies without being as filling or fiber-rich. Blenders give you all the fiber (which makes you feel fuller) and can be added with milk and seeds of your choice.
7. A 3-In-1 Avocado Slicer
Ever found yourself struggling to cut an avocado or get the pit out cleanly?
With the 3-in-1 avocado slicer, you'll never have that problem again.
This handy gadget halves, pits, and then slices ripe avocados, giving you a perfect piece every single time. It takes the pit out with a simple twist — perfect for other fruits, such as peaches, too.
It may just be the most practical $10 you've ever spent!
8. Veggie Steamer
Veggie steamers are another appliance a vegan will likely use often.
Like rice cookers, they get the job done efficiently, making the final product perfectly-steamed every time. This takes some of the pressure and hassle out of continually checking your ingredients' status.
Some steamers even have two or more levels, allowing you to steam two different things at one time without mixing them.
You can add your spices or herbs to your steamer either before or after you cook your veggies. Additionally, there are several ways to use a steamer — you can let it bring the water to a boil, or you can bring the water to a boil yourself before adding in the veggies.
Play around with different methods to see which delivers the perfect-tasting veggies.
9. Nut Milk Bags
If you've got some free time on your hands, and you're feeling experimental, consider using one of these bags to make your own vegan milk.
It's relatively easy, too!
Simply get whatever you'd like your milk base to be, whether that's nuts or oats. Soak your base for the length of time the recipe requires (usually no more than an hour). Then, blend them.
Next, you'll use your milk bags. Use these to strain the oats or nuts — resulting in a vegan milk.
You can leave the milk as-is, or you can add some flavors to it in the form of different oils (coconut oil is a good option), or vanilla. Up to you!
10. Lunch Box
Often, a vegan must suffer through a lackluster meal because their local eatery doesn't offer many options.
If you work in a place that's not near any vegan restaurants, or you know you're going on a long road trip with no vegan fast-food options, pack yourself a lunch.
That's why the last tool on our list is a lunch box—so you can carry all your wonderfully-prepared vegan food with you, on the go.
Clean Eating in More Ways Than One
Once you've got some (or all) of these vegan kitchen tools in your house, you'll be on your way to a great, well-rounded diet.
Heck, maybe you'll be that much closer to owning your own vegan restaurant! They say if you can't find what you need, it may be time to make it yourself. If your town doesn't have a local vegan restaurant, maybe it's time you put one there.
We offer tons of advice, covering all ranges of topics. Keep scrolling our blog for more fun information like this!