Whether you're moving across the state or the block, moving can be stressful. But with careful planning and organization, the process can be much easier.
Aside from planning your move, you should consider working with moving experts. Hiring moving companies can make the process significantly smoother. You may visit sites like https://www.thebigboymovers.com/ for more information.
This guide will walk you through everything you need to know for a successful move.
Eight Weeks Before The Move
Planning your move two months in advance will help ensure a smoother process. Here's a list of what you need to do eight weeks before the move:
Create A Moving Binder
A moving binder is a huge, sturdy binder where important documents, contact lists, moving checklists, inventory records, and other moving-related files are kept. With this, you can track the necessary paperwork, reduce relocation stress, and stay organized while on the move.
To make one, you'll need a three-ring binder, pocket dividers, and a zipper pouch. Additionally, consider having Post-It flags, a pen or pencil, and sticky notes on hand.
Print Out Your Moving Checklist
Once you've made a moving binder, it's time to create a moving checklist. This includes everything you need to do before the move, beginning eight weeks prior and two weeks after. Read on to learn what to include on your moving checklist.
After creating a list of what to do before and after the move, print it out and put it on the moving binder you made. Make it the first page of your binder so you can easily see what to do next.
Organize And Determine What To Include On Your Binder
Organize final bills, moving estimates, and other details moving companies provided. Then, add them to your binder.
Next, determine what you should include in your moving binder by creating sections. Some examples are documentation, expense (e.g., receipts), checklists, schedules (e.g., moving timeline), inventory, contacts, utility, and notes.
Measure Your Furniture
You want to make sure that everything fits perfectly in your new home. Indeed, you don't want to find out that your bed won't fit through your door. This is why it's important to measure all your furniture pieces before the move.
List all the measurements on a notepad and add it to your moving binder so you won't misplace it.
Pack Your First Box
The first box should contain valuables and essential documents. This way, you won't forget which box has all your important items.
But make sure you label the box properly, so you don't have to open all of them just to find the critical documents you're looking for.
Create A Room-By-Room Inventory
Creating an inventory isn't as difficult as you might think. In fact, it can help prevent serious headaches when filing a claim for damaged, stolen, or lost goods.
When you create an inventory, it's best to do it room by room. With this, you'll be able to determine which items are in which room, preventing confusion when unpacking things.
Check Which Items Need Special Care
Most moves are pretty simple: grab your box and start packing. However, some objects may be fragile. The same goes for oddly shaped furniture that may require additional care and attention (e.g., vases, sectional furniture, snow globes, and pianos).
Six Weeks Before The Move
After spending the last two weeks organizing things, it's time to go deeper. Here are the things you need to do six weeks before the move: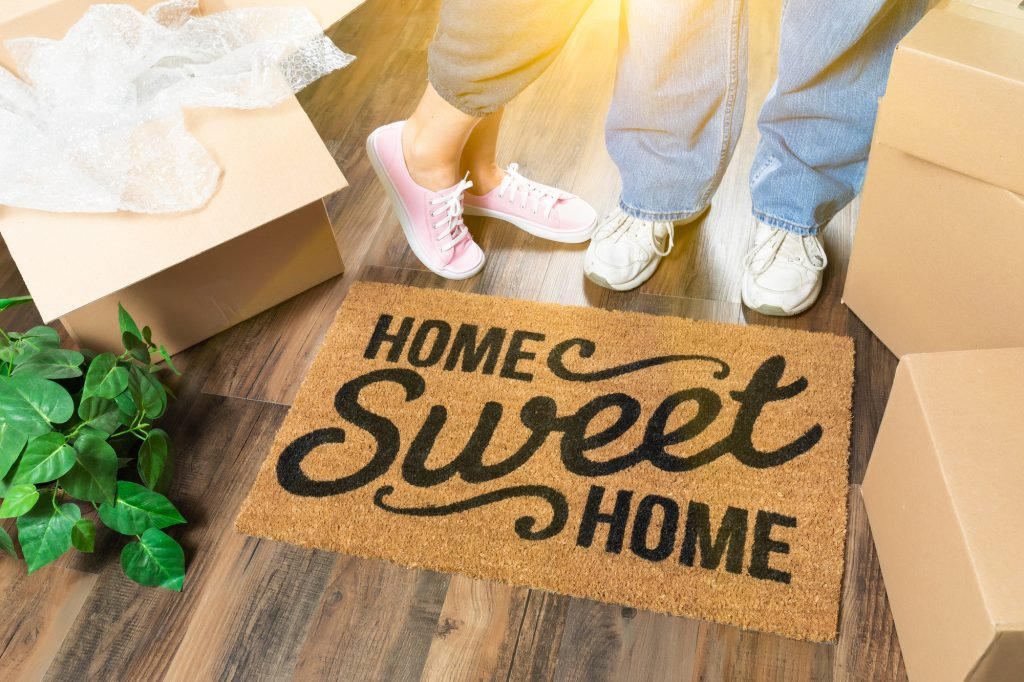 Research And Hire A Moving Company
If you plan to hire professional movers, start researching moving companies and get quotes. Compare their services, pricing, and reviews to choose a reliable and reputable company.
Afterward, make a reservation as soon as you find the right one. This is crucial, especially if you plan to move during peak seasons from April through the summer.
Here are some tips to help you:
Obtain Multiple Quotes: Contact several moving companies and request written estimates. Be wary of significantly low or high quotes compared to others, as they may indicate potential issues.
Compare Services And Pricing: Review the services each moving company offers and compare their pricing structures. Consider packing assistance, storage options, insurance coverage, and additional fees or charges.
Check Credentials And Licenses: Verify the credentials and licenses of the moving companies you're considering. You can check the validity of their licenses through government agencies or industry associations.
Read Reviews And Testimonials: Look for reviews from previous customers to gauge the experiences others have had. Online platforms like Google or Yelp can provide valuable insights into customer satisfaction levels.
With these steps, you can gather the necessary information and make an informed decision when choosing a moving company that suits your needs and ensures a successful move.
Collect Free Boxes
Moving to a new location can be costly, but there are ways to help you save even as little as a dime. One of these ways is to collect free boxes instead of buying new ones. Here are some places where you might find free boxes:
Local Supermarkets: Visit nearby grocery stores and supermarkets and ask if they have spare boxes. They often receive regular shipments and may have sturdy boxes available for you to take.
Liquor Stores: Liquor stores usually have sturdy boxes that can be great for packing smaller items. Approach them and ask if they have any boxes you can have.
Bookstores: Bookstores receive shipments of books in sturdy boxes. Inquire at local bookstores if they have any empty boxes available.
Online Platforms And Communities: Check online platforms such as Craigslist, Freecycle, or local community groups on social media. People often give away free moving boxes in these forums.
Recycling Centers: Visit your local recycling centers or waste management facilities. They sometimes have designated areas where people can drop off or pick up gently used boxes.
Friends And Neighbors: Ask your friends, neighbors, or colleagues if they have recently moved or have any spare boxes from their own move. They may be happy to get rid of them.
Remember to check the condition of the boxes before taking them. Look for sturdy, clean, and undamaged boxes appropriate for your moving needs.
Do Small Repairs
Go over your home and see if there are damaged objects, such as a missing faceplate of an outlet. Then, repair them before you leave to increase your chances of getting back your security deposit or selling the place if you own the place.
Four Weeks Before The Move
In just a month, you'll be sleeping in your new home. Isn't that exciting? But before you get too thrilled, go over the things you need to accomplish one month before D-day.
Buy Packing Supplies
You should have collected a few boxes for your belongings. However, those boxes you gathered may not be enough. So, buy more and other moving supplies until you've completed everything.
Here's a list of what you might need to buy aside from moving boxes:
Packing tape
Bubble wrap
Packing paper (newspaper)
Packing peanuts or foam padding
Stretch wrap
Furniture blankets or moving pads
Furniture sliders
Box cutter or utility knife
Labels and markers
Moving blankets
Moving straps
The packing supplies you need will depend on the size of your move and the number of belongings you have. Having a few extra supplies on hand is better than running out during the packing process.
Tune Up Your Car
If you're driving yourself or your family to your new home, it's best to check your car one month ahead to ensure everything's working in good condition. After all, you don't want to make a stop in the middle of an interstate highway.
Make sure your insurance coverage, oil changes, and mileage checkups are up to date.
Contact Your Utility, TV, And Internet Providers
Contact utility companies at your current and new address to schedule disconnection and connection of services like electricity, gas, water, internet, cable TV, and phone. Set the transfer dates or cancellations to align with your moving day.
Two Weeks Before The Move
During this period, your goal is to update your contact information and finalize your logistics coverage. Here are the things you need to do:
Change Your Address
Of course, you know you're relocating, but what about other people you know, especially those who visit or send something to your home? Do they know you're moving? Most likely, not.
Contact all your friends and businesses that may require your new address (e.g., insurance providers and banks). Then, arrange records with the post office and ensure your mail is delivered to your new address.
Update Or Cancel Your Subscriptions And Memberships
Your subscriptions and memberships are useless if you need to drive 1000 miles to get there. It'd be best to cancel them as early as now to avoid wasting money and optimize your savings.
For companies offering nationwide subscriptions and membership, you might need to update your contact information to continue making transactions with them.
Confirm Moving Dates And Start Packing
Check the companies you've booked and confirm the dates—these should be included in your moving binder. All you need to do is verify them to ensure everything's scheduled as planned.
Then, start packing your things. Your inventory should be completed at this point, and your boxes should have their own proper labeling. Now, it's time to pack everything.
Here are some tips for an efficient packing process:
Create A Plan: This will help you stay organized and ensure nothing is overlooked. Start with less frequently used rooms and save essential items for last.
Declutter: Get rid of items you no longer need, want, or use. Packing only what you truly need will save time, space, and effort.
Pack Room-By-Room: Pack items from one room at a time to keep things organized. Avoid mixing items from different rooms, as it can make unpacking confusing.
Don't Overload Boxes: While it may be tempting to fill boxes to their maximum capacity, avoid overloading them, especially with heavy items.
Take breaks during the packing process to avoid exhaustion. Stay organized, remain focused, and enlist help from friends or family if needed. By following these packing tips, you can make your move more efficient and less stressful.
One Week Before The Move
You only have seven days left before the move! Your goal during this period is to have everything ready for the moving day.
Here's a list of what to do one week before the move:
Disassemble Furniture Pieces And Start Cleaning Rooms
Want to save tons of time? Disassemble your oversized furniture items like bed frames, bookshelves, and couches before your movers arrive.
After that, clean the rooms, especially the big ones, even if you're not getting your security deposit back. What's important is to leave a good impression on your landlord after you leave.
Clean Your New Home
It'd be better to clean your new home before you move. This will help you save a lot of time and avoid the hassle of working around furniture and boxes.
Finish Packing
Before the moving day, you want to make sure that everything's been packed accordingly. Never finish the packing on loading day, as it can delay the moving process by hours.
Check your boxes and see if everything's ready before the movers arrive.
The Moving Day
Today's the day you've been waiting for! Keep in mind that all this planning and effort is aimed at successfully moving into your new home, a place that you can make your own. Here's what you need to do:
Supervise The Loading Process
Keep an eye on the loading process to ensure that your belongings are handled carefully and loaded securely onto the moving truck. Answer any questions the movers may have and provide guidance when needed.
Review Paperwork
Before leaving your old home, review and sign any paperwork or documentation the moving company requires. Keep copies for your records.
Clean The Premises
Once all your belongings are loaded, clean the empty house or apartment and check all rooms and areas. Lock all windows and doors, ensuring the premises are secure.
Unpack Essentials Box
Upon arrival at your new home, locate and unpack your essentials box. Set aside items like toiletries, bedding, and kitchen supplies you'll need for the first few days.
Verify Inventory
As the movers bring in your belongings, cross-reference the inventory list or labels on the boxes to ensure everything has arrived safely. Note any noticeable damage or missing items.
Check Utilities
Confirm that your new home's utilities (electricity, water, gas) are functioning. Contact the utility companies to schedule any important connections or installations if necessary.
Set Up Essential Furniture
Begin setting up essential furniture pieces, such as beds, so you have a place to rest and sleep at the end of the day. This will provide some immediate comfort in your new space.
These tips can help you manage the moving process more efficiently on the actual moving day. Stay organized, communicate with the movers, and focus on settling into your new home.
Final Words
Moving into a new home is not just a change of address, but the beginning of an exciting new chapter in your life. While it can be stressful, the proper preparation can make all the difference. With the tips provided in this guide, you are now better equipped to make this transition smoothly and stress-free. It's time to take that first step towards your new home!